EverSafe Scam Watch
Protecting Your Financial Health
"Deepfake" Voices Are Targeting Bank Accounts
Scammers are now trying to use artificial intelligence to copy the voice of bank customers – and break into their accounts. The scam works like this: The criminal uses AI to create a copy of your voice, then calls up the bank pretending to be you and asks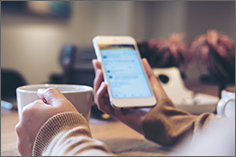 that your funds be moved into a different account. The new account, of course, belongs to the scammer. The New York Times described the tactic in a recent piece entitled Voice Deepfakes Are Coming for Your Bank Balance, dramatizing how fraudsters continue to seize on tech innovations to devise new scams.
Scammers who wish to copy a voice have a multitude of choices online, and may select from videos posted by organizations or shared by individuals on social media. In deciding whom to target and how to conduct the scam, they can take advantage of confidential, personal information that was exposed in past data breaches and may be for sale on the Dark Web.
According to the Federal Trade Commission (FTC), hackers captured data involving more than 300 million people between 2020 and 2022. Consumers lost a total of $8.8 billion to fraudsters in 2022 (for all kinds of scams), a 30 percent increase from the prior year, the FTC has reported. Names, financial account numbers, dates of birth, and driver's license information are among the personal details that may be captured in a data breach.
The voice deepfakes appear to be the latest in an ongoing effort by scammers to profit illegally from artificial intelligence. Scam Watch has previously reported on the use of AI to create voices that trick loved ones into providing money to criminals and also using AI tools to create "new" travel guides that simply repackage old material. A reminder: EverSafe monitors for the opening of unauthorized depository accounts, a step which can help shut down this scam.
Consumer Tip: Imposter Scams Come in Many Forms
Fake voices created with AI are just one type of imposter scam, which has emerged as an increasingly common fraud. In an imposter scam, exploiters try to gain the trust of victims by posing as representatives of established organizations like the Internal Revenue Service, Social Security, Medicare, well-known charities, and tech support services.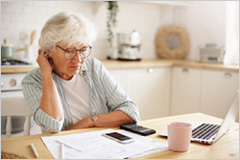 While details vary, the goal of imposter scammers is always the same: To trick victims into turning over their money. Typically, the scam begins with a phone call, email or text message that is designed to look credible. For example, scammers may use a fake caller ID to appear as a legitimate caller, known as "spoofing."
These emails or texts often contain malicious links or attachments that enable scammers to attack computers if their targets click on them. In addition, scammers may ask their victims to download software that gives them remote access to people's computers.
To protect yourself:
Always take steps to confirm that an organization or individual you are communicating with is legitimate. This is especially true if the other party initiates the conversation. Get assistance, if needed, and go online to make sure you are communicating with the actual person you are seeking.
Never click on unknown and/or unexpected links in an email. Scammers send phony "bills" all the time. They often act as though this communication is a "confirmation" of a bill you don't recognize. If you receive a link embedded in an email that raises any questions at all, look carefully at the URL (web address) to confirm that it is not phony. And get assistance from a professional or loved one if you have any questions.
Unexpected requests for money are always a problem. Solicitations from organizations that appear to be a charity are often scams. Consider using http://www.charitynavigator.org if you want to research your philanthropic endeavors. Always use caution and do further research if you are not certain a request is legitimate. If someone urges you to send money quickly, that is always a red flag.
EverSafe offers a Hotline where you can send suspicious-looking emails, text messages and/or voicemails for review and guidance. Email us at Hotline@EverSafe.com or call us at 240-630-1990.
Free Inspections, Speedy Repairs: Watch Out for Elder Fraud
If you're a homeowner, you know the scenario: A stranger knocks on the door and points out something wrong with your house. Perhaps it's a loose roof shingle, a dangling tree limb, peeling paint. They're in the neighborhood and will fix your problems at a good price.
Be wary. In Maryland, an elderly couple lost $200,000 for expensive repairs to their home that were either unnecessary or never completed. In Massachusetts, three scammers offered to fix a small crack in an older adult's stoop for $200. But then they ripped out the front steps without his permission and charged him $6,000.
These homeowners were victims of home improvement or handyman scams, a fraud that often targets elderly property owners.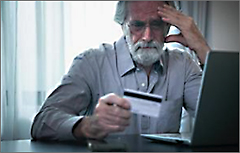 Since 2007, 109,000 of these scams have been reported to the FTC. The victims are often older adults who came of age in a more trusting era, according to the National Council on Aging. Scammers may be further drawn to older targets because they possess a lifetime of savings. Individuals who have cognitive decline may be especially vulnerable.
Sometimes the scammers offer a "free" inspection as a way to get started. Such "inspections" inevitably point to supposed problems that the scammers offer to fix on the spot – as long as you pay them in cash, through a wire transfer, or with a prepaid debit card. Don't be fooled. These fraudsters will likely take your money and you'll never see them again.
To make sure you are not the victim of a home improvement scam, experts suggest the following steps:
Steer clear of unlicensed or uninsured contractors. Check with your local government to confirm a contractor's license and ask the worker for proof of insurance. Better yet, ask the contractor for references. One best practice is to hire people who have done work previously for someone you trust.
Do research on a company you may hire. Go online and search the company's name along with words like "scam," "complaint," "reviews," or "investigation." See if the Better Business Bureau or local Home Builders Association has any complaints on file.
Get more than one estimate – and get it in writing. A legitimate estimate should include the scope of work to be done, project start and completion dates, and total cost of the job, including labor and materials.
Insist on a contract and read it carefully before signing. Make sure all the blank spaces are filled in, including the contractor's full name, license number, and company address. The contract should also give you the right to cancel. Don't agree to work based on a conversation or a handshake deal.
Don't pay the full amount before work is complete. In fact, some states limit the amount that a contractor can seek as a down payment, so you may wish to check your local laws to know what the company can charge in advance.
Make sure that contractors, whether legitimate or illegitimate, don't leave a lien on your property. Legitimate contractors may file a lien on your property to ensure they get paid, especially for large jobs. These are referred to as 'mechanics liens.' You should take steps to keep an eye on your real state and monitor for any unauthorized liens and/or title changes.