Identity, Financial & Credit Protection
Identity, Financial & Credit Protection

Safeguard yourself, your parents & your kids

Specialized Protection for Seniors
Who We Serve
EverSafe monitors bank and investment accounts, credit cards and credit reports — serving as an extra set of eyes for your family members and/or your clients. We're on guard 24/7—alerting you to any sign of irregular activity.
Protecting Yourself
Anyone with money in the bank could use some help in keeping an eye on their finances. In today's frenetic world, bills and account statements come in all the time and staying on top of them is a challenge. Our personalized technology 'gets to know' you. And our specialized alerts are designed with seniors in mind.
Protecting Others
Concerned about safeguarding someone else's finances, as well? Whether you're an adult child of an aging parent, a caregiver, a power of attorney or a professional serving an older client — helping seniors remain financially independent is critical. EverSafe's exclusive "trusted advocate" feature will enable you to serve as an 'extra set of eyes' in guarding against scams, fraud and identity theft. And our consolidated dashboard simplifies monitoring across accounts and institutions.
What We Do
A personal detection and alert system, EverSafe stops exploiters in their tracks before a lifetime of savings is depleted. We're the first step to a good night's sleep.
EverSafe connects to thousands of bank accounts, credit cards, investment accounts and your credit report.

Our proprietary learning system 'knows' our customers. We analyze historical transactions to establish your personal financial behavior and then analyze daily transactions to identify erratic behavior.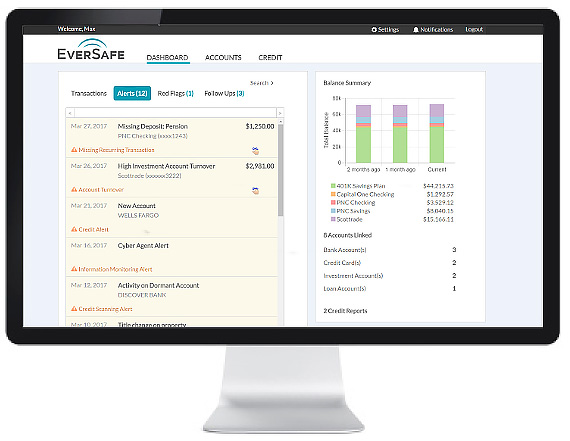 EverSafe's personalized monitoring goes well beyond identity theft protection.

Our 80-plus suspicious activity alerts include warnings for excessive withdrawals, missing deposits, unusual investment activity, changes in spending patterns and much more. Triggers and alerts can be customized by the member.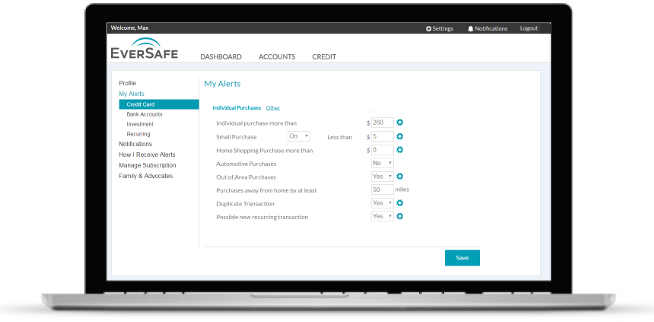 EverSafe's groundbreaking trusted advocate support is the only service that enables the member to designate family members, professionals and/or other trusted individuals to assist in monitoring alerts.

We'll email, text or call you and advocates with alerts — you choose how you'd like to be notified. Or choose our "app" for iPhone or Android use.

Clear an alert or mark it with a "red flag" for follow-up and remediation. In addition to daily alerts, EverSafe sends members a weekly summary.
When suspicious activity is marked with a red flag, the resolution process begins. You can maintain notes, set follow-up dates and even request EverSafe's support to help you create your recovery plan. If your identity has been compromised, we'll help with its restoration. And if you ever need help, we're only a phone call away.

With EverSafe, avoid the lengthy wait of the typical notification and recovery process. The result? Minimized exposure to risk and loss.