EverSafe Scam Watch
Protecting Your Financial Health
Shark Tank Scam Yields More Victims
For 14 years, millions of viewers have been watching the TV show Shark Tank, in which budding entrepreneurs pitch their products to a panel of business magnates known as "sharks" and ask for their money. The sharks are celebrities themselves, and their endorsements carry a lot of weight with the consumer public.
So it's no surprise that scammers are now seeking to profit from the influential Shark Tank name. In a consumer alert, the Federal Trade Commission has cautioned consumers to watch out for phony Shark Tank endorsements.
"Before you spend money on that 'Shark-approved' miracle invention, weight loss product, or keto diet pill, are you sure it's really been through the Tank? Really sure?" asks Karen Hobbs, an FTC assistant director of consumer and business education. "Scammers are using fake Shark Tank celebrity testimonials and endorsements – complete with doctored photos and videos – to generate buzz and profits."
Consumers can protect themselves by keeping a few main things in mind when they hear about a supposed Shark Tank endorsement. The FTC advises:
Search independently for product reviews. Tip: When you search, it's helpful to use terms like "scam" or "complaints," along with the name of the product you are interested in.
Try to determine if the product really has been on Shark Tank. You can find more information by clicking here.
Be careful in selecting dietary supplements that make claims about Shark Tank. The wrong choice could be harmful. Dietary supplements, unlike pharmaceuticals, are not assessed for safety by the Food and Drug Administration.
If you identify a fake Shark Tank promotion – or any consumer fraud – you may report it to the FTC by clicking here.
Costly Tickets: Make Sure You Get What You Paid For
Have you purchased tickets lately to a concert or sporting event? If so, you may have noticed they can be quite pricey. Beyond that, buying a ticket is not always simple. The proliferation of online ticket vendors and digital tickets can present you with a tricky array of choices.
It also has presented scammers with an opportunity for fraud. The last thing any of us needs is to show up at a long-anticipated event and be turned away at the door. To make sure that this doesn't happen, consumer advocates recommend that you take certain steps to protect yourself from ticket fraud.
Protections include buying directly from the venue (when that is an option), doing research on the ticket broker, understanding the refund policy, and paying with a credit card. Consumers should have a money-back guarantee, be aware of their seat location when buying tickets, steer clear of unsecured websites, and avoid paying in cash, according to the National Association of Ticket Brokers.
Consumers can learn more about their rights at ticket brokers by clicking here.
The Black Market is Booming for Your Financial Data
Personal information, including bank log-ins, credit card details, driver's licenses, social media accounts and home addresses, is for sale in a booming internet marketplace at a time of rising cybercrime and identity theft, according to a new study.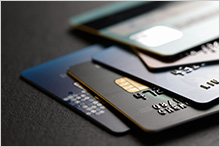 Credit card details are sold on the dark web for as little as $10, while a more comprehensive collection of personal financial documents may go for $1,000, according to the new study by PrivacyAffairs, a group of cybersecurity experts and privacy advocates. The dark web is a part of the internet that is not covered by conventional search engines like Google, Bing and Yahoo. Among the highlights of the new Dark Web Price Index 2023 report:
The market price for personal credit card details is $110 for accounts of up to $5,000. It costs $60 to purchase a stolen bank log-in for an account of $2,000 or more. The price for smaller accounts may be $40. And those are just a small number of the prices listed in the report.
Law enforcement made progress against this black market late last year, but it was only temporary, writes Miklos Zoltan, founder of PrivacyAffairs and author of the report. "New websites and forums sprang up overnight."
The new study is just the latest evidence that consumers should watch for any unusual activity in their financial accounts. A service like EverSafe can provide an 'extra set of eyes' for this important protection, including regular monitoring of the dark web to spot any potential problems and alert account holders quickly.
Beware of Warnings from Facebook Administrators
In an increasingly common scam, fraudsters are sending emails that warn users that their Facebook account is in jeopardy. The email says your Facebook page has been disabled due to some violation and will be deleted within 24 hours unless you appeal the decision by clicking on a link.

That's where the trouble begins. According to the Better Business Bureau, the scam is designed to capture people's passwords. Once scammers possess that valuable information, they enter their target's Facebook account and use the personal data for identity theft.
Cybersecurity experts warn that the fake Facebook emails often have red flags. These include typos, misspellings, and grammatical errors. In addition, social media scammers may seek out victims by making a friend request and then sending messages designed to build a relationship. Always be careful when receiving texts and emails from senders you do not know.
According to Facebook, here are some of the most common warning signs that a social media email is part of a scam:
People who you don't know – including celebrities – ask for money.
You receive a request to send cash in advance to receive a loan or prize.
A Facebook user begins a conversation and then asks you to communicate offline.
Someone has initiated a romantic connection and soon thereafter asks for cash.
You receive a request that you log in with your social media, email or bank account to read an important message about online services.
You receive an invite from a user that has no friends, profile photo, or real-looking activity on Facebook.
You should be able to enjoy social media in safety. Click here for information on social media scams and how to report a concern to Facebook.