EverSafe Scam Watch
Protecting Your Financial Health
Report: Older Consumers Face Rising Risk of Identity Theft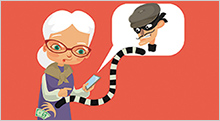 Attempts to steal the identity of older adults nearly doubled last year, even as the rate of identity theft stabilized for other age groups, a new analysis has found. Overall, 25 percent of U.S. adults experienced some form of identity theft, according to the report by Aite-Novarica Group, a Boston-based research and advisory firm.
In a noteworthy finding, individuals age 55 and older were affected at the same rate as adults overall. In the past, younger people – in their 30s and 40s – have reported higher rates of identity theft by some measures.
The new findings highlight the growing dangers of elder fraud. Researchers suggested the spike for older adults reflected the fact that many created new digital accounts over the past year and that they "might have been less prepared to protect their data" than young people.
Consumer Tip: Is Your Mobile Phone Infected?
As scammers increasingly target mobile phones, it has become vital to make sure your devices stay virus-free. Malware attacks can interfere with the phone's functions, capture personal identification and usage details, track movements, record audio and video, destroy content, and trigger spam. Malware is often designed to spread to contacts, so all these problems can jump from one phone to another.
But how do you know if your phone has an issue? McAfee Corp., the computer security firm, offers these five signs that a mobile phone has been hacked:
The device is hot to the touch.  Malware may force your phone to work harder, and this can potentially lead to overheating.
The phone no longer works right. Websites may be slower to load, apps may crash, and the battery may not hold a charge. The virus has in effect made your phone get sick.
New apps and random pop-ups. If you spot an app icon you never asked for, that could be a warning.
False messages to your friends. Malicious software may use your contact list to send messages to your friends and attack their phones. If this is happening, you should change your passwords immediately and scan your devices to get rid of the malware.
Unauthorized charges. Are items you never bought appearing on your credit card or bank statements? If so, your phone may have been hacked.
As Scam Watch has previously cautioned, beware of "smishing" texts that arrive in your mobile phone and try to lure you to malicious websites. Our goal at EverSafe is to stop exploiters in their tracks. If you have a question or concern about the safety of your mobile phone, just give us a call at 1-888-575-3837.
Scammers and Swindlers Find Profit in Romance 
Of all the frauds to watch out for, scams that exploit lonely hearts are among the meanest. Yet they are highly profitable, and they are on the rise. Netflix dramatized the phenomenon earlier this year in The Tinder Swindler, a hit movie about an Israeli con artist who would meet his targets on dating apps and tell them he was heir to a diamond fortune. After gaining their trust, the crook would pretend to have a financial crisis and persuade victims to take out loans and credit in his name. He was ultimately accused of swindling an estimated $10 million from about two dozen women. While the Tinder Swindler (real name Shimon Hayut) may be the most notorious sweetheart fraudster, he has a growing list of rivals. The Washington Post, Tallahassee Democrat, and other media outlets recently reported on the "Casanova Scammer" who pleaded guilty to 25 fraud counts related to romance schemes in the South and Midwest. Known for wearing a white lab coat and pretending to be a surgeon, the Casanova Scammer (real name Brian Wedgeworth) was accused of defrauding dozens of victims in seven states of more than $1 million. Wedgeworth, who pleaded guilty in federal court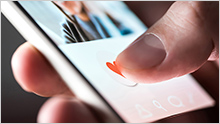 in Tallahassee, could in theory receive up to 100 years in prison when he is sentenced later this summer. While most romance hustlers avoid the notoriety of the Tinder Swindler and Casanova Scammer, such frauds have soared to an all-time high, last year costing victims $547 million, according to the Federal Trade Commission. The crooks typically create fake online profiles and scour the internet for information about their victims. They often say they are in the military or have some other job that keeps them at a distance. COVID-19 gives sweetheart scammers a new excuse to avoid personal contact. The victims are often in midlife or older, making romance scams an all-too-common form of elder fraud. Older adults tend to have cash savings and may be trusting, notes the National Council on Aging (NCOA). Individuals age 40 to 69 are most likely to report such swindles, while those over 70 generally have the highest losses, the NCOA points out. Romance scammers are shrewd manipulators. But it is not that hard to spot this fraud, and experts offer some guidelines to follow if you meet a friendly suitor online. According to the FTC:
Do not send money to someone you have not met in person.
Certain requests are red flags. A legitimate new friend will never ask you to help them with a problem by sending cryptocurrency, a gift card number or money wire.
Check them out. If the person sends you a profile picture, try to search online to determine if it's genuine.
See what your friends or family think about your new romantic partner – and pay attention if they raise concerns.
For further information, go to https://consumer.ftc.gov/articles/what-you-need-know-about-romance-scams.
Robocalls Rocketing After a Pandemic Pause
For a brief moment as the COVID-19 pandemic was gathering steam, it looked like robocalls might become less of a nuisance. These automated intrusions, which are often illegal, hit a peak of 5.7 billion in October 2019. But soon after, as the pandemic hammered the U.S. economy and companies shut down call centers, robocalls plunged almost by half.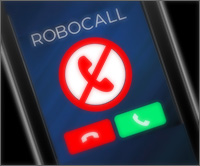 Alas, that trend has petered out and spam calls are once again barraging our phones. Robocalls have not yet recovered their pre-pandemic peak, but they are now averaging 4.1 billion a month. In perspective, that comes to more than 1,500 calls per second, according to AARP.
On May 19, the Federal Communications Commission tried to stem the tide, targeting spam calls that originate overseas. Under the new rules, so-called "gateway providers" that enable foreign robocalls to enter U.S. phone networks are supposed to help keep out the phonies.
Hopefully, the new rules will help. But robocallers are awfully persistent. That in mind, consumers can protect themselves by taking the following steps recommended by AARP:
Download a call blocker. These tools, which may be free, are designed to prevent spam calls from reaching your phone. They may be offered by phone companies and have different features. For further information: https://www.fcc.gov/call-blocking.
Let the call go to voice mail. If you decide to call back, make sure to use a legitimate number – don't assume that the number left in voicemail is safe.
Hang up the phone. If the call sounds fishy, do not engage. That applies to robocalls or a live caller on the other end.
Learn more about the challenge. The FCC is a good place to start. You can find loads of information at: https://www.fcc.gov/consumers/guides/stop-unwanted-robocalls-and-texts.