EverSafe Scam Watch
Protecting Your Financial Health
Consumer Scams Reach All-Time High
Fraud complaints by consumers rose to an all-time record last year, led by imposter scams, such as when crooks seek money from their victims by pretending to work for the government, according to the Federal Trade Commission.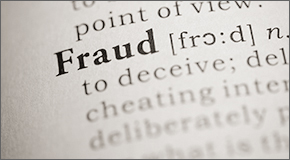 The agency received nearly 1.7 million fraud reports, with consumers claiming losses of more than $1.9 billion—a 28 percent spike—and about $667 million lost in imposter scams, which jumped 34 percent. Other common complaints included identity theft and disputes involving telephone services, online shopping, and credit bureaus.
Identity theft was cited in 651,000 claims, which soared 46 percent, according to an AARP analysis. Victims of identity theft often said their problems involved credit cards, loans and leases. In addition, the FTC fielded 892,000 other complaints in a broad category that includes credit bureaus, funeral services, and other businesses.
Victims over age 50 paid the biggest price in scams. (The median loss rose from $448 for people in their twenties up to $1,600 for those age 80 and above.)
Consumers who believe they are victims of fraud are encouraged to contact the FTC by calling 1-877-382-4357 or submitting a complaint online. Questions and answers are available at: https://www.ftc.gov/faq/consumer-protection/submit-consumer-complaint-ftc. And as always, you can protect your/your family's/your clients' finances with comprehensive monitoring—and receive alerts for erratic activity.
ALERT:  Warning from Social Security Administration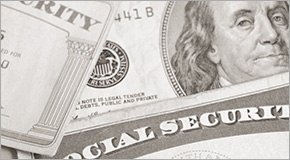 Imposter scammers are especially drawn to Social Security, because your number is so useful in identity theft. In a recent warning to the public, the Social Security Administration (SSA) cautioned that criminals are trying to scare people into turning over their personal information by threatening individuals with arrest or legal action if they do not pay money.
According to the SSA, crooks may call up and say you have a problem with your Social Security number or account. They may send emails that look official or display a caller ID that looks like it is from the government. Typically, they will ask their target to pay a supposed fine or debt, and direct them to send the money using gift cards, wire transfers, pre-paid debit cards, internet currency, or even cash.
Always remember that Social Security will never:
Threaten the public, suspend a Social Security number or demand immediate payment.
Ask anyone on the phone for gift card numbers or to wire money.
If you receive a suspicious call, the agency advises you to hang up right away. Do not provide personal information or anything of value. You also are encouraged to report the call to the SSA's inspector general: OIG.SSA.GOV.
Is that a Real Debt Collector or a Crook on the Phone?
An individual contacts you, claiming you owe money. Nobody welcomes this call. More importantly, you face a real question: Is this a legitimate claim, or is a criminal trying to con you? There are steps you can take to determine if the debt is real, if you are uncertain about the charge in question. The Consumer Financial Protection Bureau says there are a handful of signs to watch out for, and rights you have as a consumer, to clarify whether you are the target of a scam or you really owe the money.
Telltale signs of a debt-collection scam include: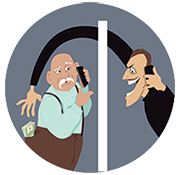 You don't remember owing the money. This is a huge red flag, but it should be easy enough to determine. Make sure the collector tells you the name of the creditor and consider calling them directly, if need be.
Withholding information. A debt collector is required to disclose the name of the creditor, the exact amount, and your right to be furnished with verification of the debt. The collector has five days to provide written notice after the initial contact.
Collector requests payment by money transfer or prepaid card. Warning: such payment requests may be impossible to trace and are almost always the sign of a scam.
Threatening to tell your family, friends, or employer about the debt. Such coercive tactics are generally against the law. Crooks may also call you late at night or at other odd, non-business hours.
Asking you for personal data. Never provide any personal financial data to an unknown, unexpected caller. You have legal rights as a consumer to protect yourself. Enlist assistance from a family member or professional, if necessary. Among the steps you can take:
Demand a callback name, number, and address. This information can help you determine whether the debt collector is genuine or a scammer.
Contact the creditor yourself. Once the debt collector makes clear who is calling, you can research the company to see if it's legitimate, and then call up the creditor yourself to confirm whether or not there is a real debt.
Review your credit report. This is not a fool-proof test, as credit agencies do not always have all your credit information. But it may reveal the debt. You can get your credit report with a fraud monitoring service like EverSafe, or go to AnnualCreditReport.com.
…And Remember: You Do Have Rights as a Consumer
Scammers may be exploiting data and technology to defraud the public. But consumers do have certain tools to fight back. Tech solutions exist that analyze daily transactions from all financial accounts (and not just credit), monitor the Dark Web, and send out alerts if something looks amiss.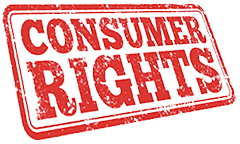 In addition, consumers have rights under the Fair Credit Reporting Act that come in handy if you have been the target of identity theft. Although these protections are not as robust or comprehensive as monitoring across all kinds of accounts (e.g. depository, investment, retirement) and institutions, it is worth your while to be aware of them:
You can ask the consumer reporting agencies to place a fraud alert in your file, which will warn potential creditors that a criminal may have tried to hack your identity. A fraud alert can make it harder for an identity thief to open more accounts in your name. You can place a fraud alert with one of the three nationwide credit bureaus. It has to put the alert on your credit report and tell the other two credit bureaus to do so. The agencies are:
Equifax: 1-800-525-6285 www.equifax.com
Experian: 1-888-397-3742 www.experian.com
TransUnion: 1-800-680-7289 www.transunion.com
You can place a security freeze on your credit report. You can freeze your credit report at all three major credit bureaus, but it must be done individually. If you do, the credit agency will need your permission to release information. This measure may protect you from certain fraudulent transactions. Just be aware it is not a cure-all and it may take longer for you to gain approval of legitimate requests for credit.
You have a right to the information in your file, free of charge. If you request an extended fraud alert, you may have two, free additional disclosures of your file within a year.
You may demand in writing that creditors give you documents on fraudulent purchases or fake accounts that used your personal information. For more information, go to: https://www.consumerfinance.gov/learnmore/.
You may ask a credit reporting agency to remove information from your file that ended up there due to identity theft. You will need careful documentation of the issue, including a copy of your identity theft report to authorities, to take this step.