EverSafe Scam Watch
Protecting Your Financial Health
Older Consumers Targeted by the Pigeon Drop
Law enforcement professionals have recognized an increase in an age-old scam targeting seniors known as the "pigeon drop." In a pigeon drop scheme, a team of crooks selects a victim in a public space and plants something of value for the victim to find. Or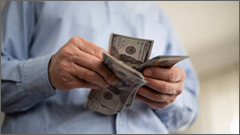 they tell their target that they have discovered a pile of cash and want to divide it up. Scammers then persuade their victims to provide some of their own cash as collateral to serve as a sign of trust. When the victim obliges, crooks vanish with the money.
The Washington Post recently reported that there have been at least eight such pigeon drop schemes reported in suburban Prince George's County, and the targets were older African American women driving expensive cars. In one such case, two scammers approached a woman who was sitting in her van in a parking lot. They told her they had found a pocketbook full of cash and if she took them to her bank, they could all share in the money. Ultimately, a suspect was arrested and charged with stealing thousands of dollars.
In another recent case in Paramus, NJ, a 76-year-old man was swindled out of $10,000 by two men who said they were in the area for a church event and had found a bag carrying $185,000.
While such cases continue to make news in the 21st century, the pigeon drop has a history dating back hundreds of years across the Atlantic Ocean. In 18th century England, crooks used jewelry rings as objects of value to deceive their targets. Apparently, the term "pigeon" was adopted by the French as a word for an individual who is fooled by scammers.
Travelers Getting Scammed on AI Travel Guides
As artificial intelligence tools create more and more consumer content, it's no surprise that scammers are taking advantage. According to the New York Times, travelers who seek information on faraway places are among the victims. Consumers are led to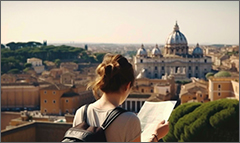 believe they are purchasing guidebooks that have been carefully written by experienced travel writers. Instead, they are paying for vague, older material of little value that has been recycled from the internet.
"Shoddy guidebooks that appear to be compiled with the help of generative artificial intelligence, self-published and bolstered by sham reviews…have proliferated in recent months on Amazon," the newspaper reported.
In one example, a Pennsylvania consumer thought she had ordered a highly rated travel guide for a visit to France, but was disappointed by the low-quality, repetitive text that offered little help for her planning. "It seemed like the guy just went on the internet, copied a whole bunch of information from Wikipedia and just pasted it in," she told The Times.
The AI-generated travel guides lure consumers with fake, rave reviews, along with photos and text generated by AI. They land high up in online search results and have captured endorsements, such as an Alaska guide that Amazon rated as the top Travel Guide in its category.
Scam Watch has previously written about scammers using artificial intelligence to imitate the voices of loved ones in distress so they can cheat their victims out of money. Generative AI is providing scammers with other tools to trick the public, through words and images, and travel guides are not the sole example. According to The Times, the technology is creating books on cooking, gardening, religion, medicine, and self-help that may look original but merely pull together old material that lacks the value consumers believe they are paying for.
White House Responds to Cyberattacks of K-12 Schools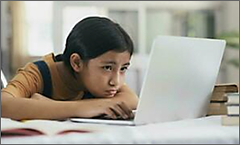 In the 2022-23 academic year, cyberattacks became a disruptive reality in  a growing number of school districts around the United States. At least eight school districts in different regions were affected, including schools in Los Angeles and New York City. Four school districts actually had to cancel classes. In these data raids, hackers captured highly personal data including student grades, health records, and financial information. In addition, details about school security systems were exposed.
When such attacks occur, students pay a big price: Following such incidents, education may be set back by as much as three weeks, according to a 2022 U.S. Government Accountability Office report.
Against this backdrop, the Biden Administration recently called together stakeholders in education including representatives of schools, government, and the private sector, to discuss a range of steps to protect students' personal information. Among the measures:
The Federal Communications Commission proposed spending up to $200 million over three years to bolster cyber defenses in schools and libraries, while working with other federal agencies.
The Department of Education will create a coordinating body to optimize efforts of federal, state, local, tribal, and territorial officials to enhance defenses of K-12 schools against hackers.
U.S. education and cybersecurity officials released new guidance to help schools establish digital infrastructures that are harder for hackers to penetrate.
Report: Data Breaches Soaring in 2023
The current calendar year is on pace to set an all-time record of data compromises, according to a new report from the Identity Theft Resource Center (ITRC). The nonprofit organization, which tracks data breaches, found there were 1,393 such incidents in the first half of 2023 alone. If that pace continues, it would shatter the previous annual record of 1,862 data compromises in 2021.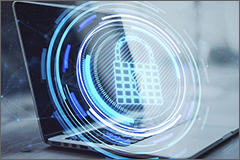 Major economic sectors were affected, with health care leading the way in data exposures, and financial services reporting a sharp increase. Phishing attacks, in which scammers pretend to represent legitimate companies, and ransomware, used to disable computer systems until victims pay a ransom, were prominent tactics employed to capture data.
"While businesses and individuals may be numb to constant attacks and scams that lead to breaches, it's important to remain diligent and practice good cyber-hygiene to make any information stolen or exposed less useful for identity criminals," said Eva Velasquez, the ITRC's President and CEO.
Using a monitoring platform that alerts you and loved ones to suspicious financial activity and scans the Dark Web on a daily basis – is certainly a great start.