EverSafe Scam Watch
Protecting Your Financial Health
Bipartisan Push to Fight Change-of-Address Scam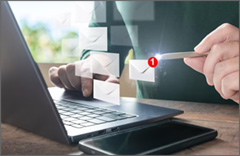 Members of Congress are urging the U.S. Postal Service to take action against a scam in which criminals create fake addresses to redirect people's mail. The scammers then use people's bank information, financial statements and other personal data to commit identity theft.
"This criminal tactic is being used across the country, and it's resulting in credit cards, bank info, Social Security numbers, money, and sensitive personal information in the hands of bad actors seeking to steal from our families," declared Congressman Josh Gottheimer, from New Jersey. "A criminal could literally use the information they receive from your mail to open a new checking or savings account in your name."
In a bipartisan letter to U.S. Postmaster General Louis DeJoy, House members urged the Postal Service to require proof of identity when someone attempts to change their mailing address. In addition, lawmakers called on the Postal Service to enable people put a freeze on address changes they did not ask for.
"I'm calling for the Postal Service to immediately strengthen the authentication processes and require much stricter verification if you change your address, and for the Inspector General and the Postal Inspection Service to fully investigate this change of address fraud and identity theft," Gottheimer said.
Elder Fraud: Why are Older Adults Targeted?
It is no secret that fraudsters attempt to exploit older individuals in a range of crimes that can be extremely costly to victims. Romance scams. Fake grandchildren. Phony sweepstakes. Robocalls. Government impersonation swindles. These and other frauds cost older adults millions of dollars every year.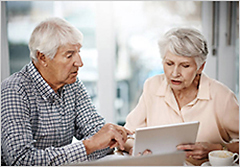 But why is it that scammers are drawn to older adults? What makes elder fraud so profitable? According to the FBI, crooks prey on older targets for a number of reasons:
Older adults often have considerable life savings. They may have large nest eggs, paid-off homes, and good credit ratings. All these assets are appealing to fraudsters.
Importantly, older individuals may be reluctant to report that they have been victims of fraud. Many admit to being ashamed that they trusted the scammer. They may fear that loved ones will lose faith in their ability to remain independent and manage their affairs.
Adults with cognitive issues face additional challenges. They may be more likely to believe the scammer and unable to provide accurate information sought by investigators
For all these reasons, older people should be careful about whom they trust and always safeguard their sensitive personal information. "Scams are specially designed to catch us off guard, and they can happen to anyone," points out the National Council on Aging. "There's nothing to be ashamed of if you think you're a victim. Keep handy the phone numbers of resources that can help, including the local police, your bank (if money has been taken from your accounts) and Adult Protective Services."
Adults of all ages should stay vigilant about unusual activity in any of their accounts and avoid clicking on links online from sources they do not know to be safe. Specialized protection, such as that offered by EverSafe, can fill an important role. In addition, EverSafe's age-friendly software supports powers of attorney, guardians, conservators, and trusts that may be important for older adults. Alerts can be sent to designated 'trusted advocates' who serve as an 'extra set of eyes' in monitoring.
Scammers Seek Profit from Bank Failures
Recent meltdowns of high-profile banks are not just financial news stories. The failures of Silicon Valley Bank (SVB) and Signature Bank have created a new opportunity for scammers, and they are seizing on it.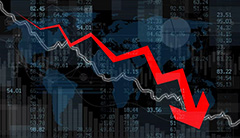 According to the Better Business Bureau, scammers have been contacting the public through emails, text messages and phone calls in which they pretend to be from one of the failed banks. They then ask their targets to make payments, withdraw funds or provide details of other bank accounts. Such communications have been directed to bank customers, as well as individuals who have no accounts with the bank.
The scammers are taking various steps to fool their victims. They have registered web domain names that sound like legitimate financial institutions. In some cases, they have attached the government's March 12 statement on the bank failures as a way to appear official and trustworthy. They have also engaged in business email compromise – a type of fraud that includes theft of data and phony invoices. Even non-bank customers are potentially at risk if they click on a link from scammers that downloads malware onto their computer, the Washington Post reported.
Top Ten: The Worst States for Identity Theft
While identity theft is a threat to all of us, a new study suggests that the danger may vary somewhat based on where you live. The study, conducted by an organization that focuses on cybersecurity issues for business, ranked the Top Ten states for the most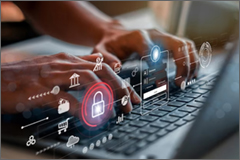 identity theft, according to official data for the years 2018 to 2022.
The Top Ten states were then ranked based on identity theft reports per 100,000 residents. The Top Ten findings, starting with the worst, are: Rhode Island, Kansas, Illinois, Georgia, Nevada, Louisiana, Florida, Delaware, Texas, and Maryland.
According to researchers, several factors seemed to drive up the identity theft numbers in the Top Ten states. Among the highlights:
States with a lot of data breaches against business and government ended up with the worst levels of identity theft.
Fraudulent applications for unemployment insurance during the Covid-19 pandemic pushed up identity theft numbers in many places.
While Rhode Island had the highest level of identity theft reports – 897 violations per 100,000 residents – Florida victims paid a larger price, typically losing 2.7 percent of their income in such cases.
States with the most identity theft often lacked safeguards. Five of the Top Ten worst states had no specific laws to block identity theft or help people recover their losses, according to the report.