EverSafe Newsletter
SENIOR FINANCIAL PROTECTION NEWS
Providing thought-provoking articles, commentary and general information on issues related to aging and financial health.
Heard of "Grandfluencers?"
OLDER FOLKS ON SOCIAL MEDIA ARE THE NEWEST THING
There is a growing trend among our nation's older citizens – and that is the use of social media. And it goes beyond grandma looking at photos of her grandchildren on Facebook. A recent piece in the Chicago Tribune chronicles several examples of older adults using social technology to become "influencers," coined as "grandfluencers" in the piece. "Grandfluencers" are "folks 70 and up who have amassed substantial followings on social media," often with the support of fans who are far younger. The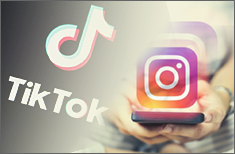 common thread is the feeling that they have wisdom to share. A few examples? A 75-year-old woman, once out of shape, now has a body builder's physique and promotes health and fitness tips to 1.4 million followers on Instagram. On TikTok, four friends who call themselves @oldgays "seek to bridge the dialogue gap between the generations using the internet, while also giving more visibility to their own peers" – and their concerns. They now boast 2.2 million followers, including Rihanna. According to recent figures from Pew Research, nearly 70 % of adults ages 50 – 64 and 40 % of those older than 65 use social media. And at the end of 2019, Statista indicated that 58% of seniors use YouTube. According to Jane Bryant, Senior Vice President at AARP and quoted in the Tribune piece, older adults are now busting stereotypes and using social media to show "…what's possible in life's sixth, seventh and eighth decades… The authenticity that we're seeing in some of these older influencers is really refreshing. That's part of the complexity of their narratives. They're bringing other parts of their lives to it. They're grandparents and great-grandparents and spouses. They're more comfortable in their own skins." Clearly, "grandfluencers" will help dispel ageist notions about the relevance of digital platforms to older – and younger – audiences.
COVID-19 and Dementia
RESEARCHERS EXPECT A SPIKE IN ALZHEIMER'S DISEASE
An organization called the Alzheimer's Disease International, made up of over 100 dementia associations around the world, is urging the World Health Organization to focus on the potential effect of COVID on increasing rates of dementia. The premise is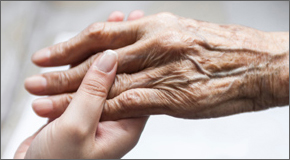 that the pandemic could cause a "significant rise in the number of dementia patients in the long term, as some research has shown that Covid infections can increase a person's likelihood of developing dementia," and also spur on its symptoms. Scientists are studying the neurological impacts of COVID, many of which are consistent with Alzheimer's – the most common form of dementia. The organization's Medical and Scientific Advisory Panel has established a working group of experts to study the link and make recommendations on how to deal with the problem.
SCAM ALERT & GOVERNMENT / LEGISLATIVE UPDATES
US SENATE FOCUSED ON COVID-RELATED SCAMS
OCTOBER 1st IS THE INTERNATIONAL DAY OF OLDER PERSONS
Last week, the US Senate Special Committee on Aging held a hearing entitled "Frauds, Scams, and COVID-19 – How Con Artists Have Targeted Older Americans During the Pandemic." In addition to remarks describing various state initiatives across the country, the panel received testimony from the FTC Consumer Protection Bureau, the National Consumer Law Center, and an older victim who was defrauded in a romance scam – initiated on Facebook, during the pandemic. The Committee also publicized a special resource for consumers called, aptly, The Fraud Book, which gives information on the ten most common scams and lists aging resources, including hotline numbers.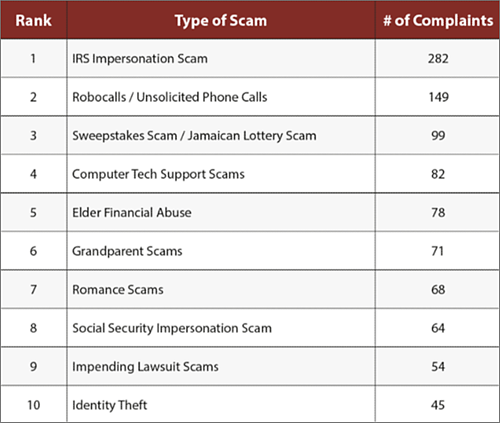 The Fraud Book US Senate Special Committee on Aging
* * *
In 1990, October 1st was designated the "International Day of Older Persons" by governments around the world. In doing so, the United Nations sought to officially acknowledge the challenges faced by seniors – on a global scale. The theme of this year's commemoration is "Digital Equity for All Ages." Digitalization has revolutionized our way of life. And although in the US, a 2017 report from Pew found that nearly 70% of Americans 65 or older use the Internet (a significant uptick from 14 percent in 2000) – much of the world lags behind. It is high time to educate older adults on how to use technology, especially in developing countries. Newer technologies can serve as promising tools to address health and the "needs of elderly people living in resource-constrained settings," according to researchers.
Meet Betty Reid Soskin
THE OLDEST PARK RANGER IN THE US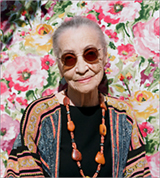 A recent New York Times piece highlights the amazing life of Betty Reid Soskin, the oldest active park ranger in the country. Ms. Soskin became a centenarian on September 22nd. In recent years, she has become "both an icon of the service and an unlikely celebrity, drawing overflow crowds to talks and a steady stream of media interviewers eager for the eloquent words of an indomitable 5 feet 3 inch great-grandmother once described by a colleague as 'sort of like Bette Davis, Angela Davis and Yoda all rolled into one.'" Betty's story reads like a novel. When World War II began, she took a job in the U.S. Army Air Forces. When she learned that her superiors thought she was Caucasian,  she "…set the record straight, and asked if she would still get her promotion." The answer was no. "I walked out on the U.S. government and told them to shove it," she later wrote in her 2018 memoir 'Sign My Name to Freedom.'" As described in the Times article, the 100 year old Ms. Soskin has also been "a suburban mother, antiwar activist, musician, business owner, faculty wife, community advocate, political aide, blogger and, of course, park ranger."
Do yourself a favor and watch a compelling interview of this American superwoman: https://vimeo.com/ondemand/notimetowastefilm.