EverSafe Newsletter
SENIOR FINANCIAL PROTECTION NEWS
Providing thought-provoking articles, commentary and general information on issues related to aging and financial health.
Start-Up Focused on Brain Scans
DIAGNOSING MENTAL HEALTH ISSUES A NEW WAY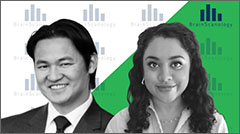 Mental health disorders, like schizophrenia and autism, are notoriously difficult to diagnose. David Nguen, a PhD from Berkeley, has invented an algorithm to assess these kinds of conditions in a new way: through shape BrainScanology foundersanalysis software. In 2013, one of Dr. Nguyen's closest friends committed suicide because of bipolar disorder. He promised himself that he would do something about this tragedy one day. Today, the doctor's tech company, BrainScanology, has taken steps to revolutionize the way MRIs are reviewed and diagnoses are made. The company's mission is to "bring clarity to mental health diagnoses within 24 hours…" and his software may transform the way doctors diagnose "Alzheimer's disease, bipolar disorder, schizophrenia, autism, and ADHD…" The company believes that the software will also assist doctors in their attempts to assess whether medications for these disorders are working.
COVID, Seniors, and Genetics
IS THERE A CORRELATION?
COVID-19 has certainly presented challenges for medical professionals in the US and around the world. Although all age groups are capable of contracting the virus, we learned early on that older people face a higher Seniors with healthcare professionals risk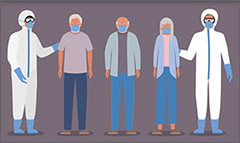 of developing severe illness if they contract the disease. And although many believed that their vulnerability was due to physiological changes that come with aging as well as underlying health issues, recent research indicates that genetics may play a significant factor. A recently published study by the University of Washington found that "genetically predetermined limits on the immune system may be the reason for the devastating impacts of COVID-19, especially on the elderly." Interestingly, these researchers found that a senior's immune system determines their ability to fight COVID, like any other infection – and that this ability depends on "the replication of the immune cells effective at destroying the SARS – CoV2 virus that causes the disease." According to scientists involved in the study, the average person's immune system performs well despite this limit until they are about 50 years old.
GOVERNMENT / LEGISLATIVE UPDATE
HOUSE PASSES BILL ADDRESSING ELDER EXPLOITATION
On May 11, the House passed a bipartisan bill aimed at protecting seniors from the escalating number of financial scams. The House of Representatives voted to approve an initiative entitled The Empowering States to Protect Seniors from Bad Actors Act, by a vote of 371-48. This legislation would enable the Securities and Exchange Commission to authorize $10 million each year so that state regulators can "hire additional investigative staff and improve technology, training and equipment." In addition, money would also be devoted to educating seniors about financial scams.
FRAUD IN A HOSPITAL SETTING
Many families don't realize that financial crimes often occur when their loved ones are hospitalized, especially during an extended stay. Police recently arrested Ana Nunez after she allegedly stole more than $437,000 from a 70-year-old cancer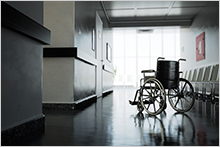 patient who was hospitalized in Miami. The accused scammer gained access to the patient by pretending to be her daughter. She then induced her to sign a power of attorney, which enabled her to obtain title to the victim's bank accounts, home, and other possessions – all while she was convalescing at a hospital in Miami Dade county. At the time of her arrest, Nunez had a previous criminal record for grand theft, forgery, and other crimes. She now faces charges of "organized fraud, exploitation of the elderly, and theft from the elderly totaling more than $50,000." Cases like this one underscore the need for financial monitoring systems that alert a team of designated contacts for erratic financial transactions and changes in real estate records.
Running in Their 90s and Beyond
SENIOR GAMES PARTICIPANTS SET RECORDS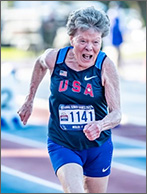 The National Senior Games occurred this month in Miramar, Florida. This event is the largest multi-sport championship contest in the world for adults 50 and over. Nearly 12,000 athletes competed in 21 sports in five-year age divisions over 13 days. The event's athletes chalked up seven American records and 154 National Senior Games records. Most of the runners in the Track and Field Event were in the 75 – 99 year old category. A number of them didn't start running until they were in their 60s. Florence "Flo" Meiler (shown in picture), 87 years old, from Shelburne Vermont won the High Jump with a height of .94 meters. You can see more American Senior Games records here.