EverSafe Newsletter
SENIOR FINANCIAL PROTECTION NEWS
Providing thought-provoking articles, commentary and general information on issues related to aging and financial health.
World Elder Abuse Awareness Day
JUNE 15TH EVENTS RECOGNIZED SENIORS
June 15th was World Elder Abuse Awareness Day. Known as "WEAAD," the annual recognition of this date was launched on June 15, 2006 by the International Network for the Prevention of Elder Abuse and the World Health Organization at the United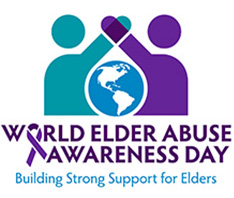 Nations. The purpose of WEAAD is to "provide an opportunity for communities around the world to promote a better understanding of abuse and neglect of older persons by raising awareness of the cultural, social, economic and demographic processes affecting elder abuse and neglect," according to the National Center on Elder Abuse. EverSafe participated in a number of events that recognized this day, including a webinar hosted by the American Bankers Association. Liz Loewy, COO, presented on a panel of experts that discussed the importance of governmental, financial, community, and private collaborations in identifying and resolving elder fraud. The recording of that presentation can be found here. WEAAD should be considered a call-to-action for individuals and organizations to raise awareness about elder abuse, neglect, and exploitation – around the world.
International Focus on Alzheimer's
NEW RESEARCH FOCUSES ON PLANNING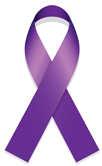 June was also Alzheimer's Awareness month. June 21st, the beginning of summer, is the longest day of the year. On this day, every year, people from around the world help raise awareness for Alzheimer's – the most common form of dementia.
The Alzheimer's Disease International 'From Plan to Impact' report was published this month. The report contains:
A visual summary of national dementia plans around the world
Progress on a strategic campaign entitled #WhatsYourPlan
Case studies from more than 40 countries
Essays from experts on dementia policy, research, innovation, and the economic, social and health ramifications of dementia and
Key recommendations and a call to action for governments to respond to their 2017 commitment and develop national dementia plans by 2025.
GOVERNMENT UPDATE / LEGISLATIVE UPDATE
SOCIAL SECURITY EXPANSION ACT INTRODUCED
The Social Security Expansion Act, introduced this month, represents an effort to increase Social Security checks to address the rise of inflation. The bill also aims to provide protection for the financial future of the program by increasing the number of employees currently paying into Social Security. Introduced on June 9th by Rep. Peter DeFazio (Oregon) and Senator Bernie Sanders (Vermont), the plan comes after the Social Security Administration announced earlier this month that Americans will likely stop receiving their full Social Security benefits within 13 years – without actions taken to enhance the program. Lawmakers supporting the bill have a plan to boost Social Security payments by $2,400 per recipient annually, while also shoring up the program financially.
FRAUDSTERS IMPERSONATING LAW ENFORCEMENT
Law enforcement professionals across the country are concerned about a growing scam: fraudsters who email and text pictures of "…doctored law enforcement credentials and badges in an attempt to 'prove' they are legitimate to scam people out of money."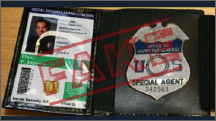 These scammers may replace the photo or change the name and other identifying information on the badge, but the basic scam is the same. Loved ones and clients should be extra wary of communications that appear to be from government or law enforcement. According to the agencies involved in the announcement, "no one in federal law enforcement will send photographs of credentials or badges to demand any kind of payment, and neither will government employees." You can read the official alert here. The following US agencies joined the announcement:
Social Security Administration Office of the Inspector General (OIG)
Department of Labor
National Aeronautics and Space Administration
Pandemic Response Accountability Committee
Federal Bureau of Investigation
Their tips include:
Getting off the phone – as quickly as possible.
Refraining from transferring any funds. The Social Security OIG warns: "Never pay someone who insists that you pay with a gift card, prepaid debit card, Internet currency or cryptocurrency, wire transfer, money transfer, or by mailing cash. Scammers use these forms of payment because they are hard to trace."
If you, or a loved one or client, believes a communication is from a real law enforcement or government agency, get the name of the person and organization and call them directly.
Do not believe scammers who "transfer" calls to an official or bank professional – even if they give a number as proof. Scammers can create fake numbers and identities – and so relying on Caller ID won't always work.
Be especially suspicious of anyone claiming to be from a law enforcement or a government agency who references a problem you/they don't recognize. Never provide personal information, even if the caller has some of your/their information.
Do not click on any links or attachment related to these communications.
Coffee and Longevity
NEW STUDY SUGGESTS CORRELATION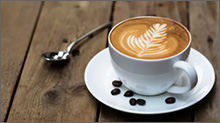 Do you enjoy your coffee breaks? There is good news. New research suggests that coffee addicts may be getting some unexpected health benefits from their java. In fact, drinking coffee may be linked to a lower risk of dying – according to The Annals of Internal Medicine. The study examined data from more than 170,000 people between the ages of 37 and 73 from a medical database in the United Kingdom with an average follow-up period of seven years. The research found that "those who drank between 1.5 to 3.5 cups of coffee per day, with or without sugar, were up to 30 percent less likely to die during the study period than those who didn't drink coffee." The study's conclusion was summarized in one hopeful sentence: "Moderate consumption of unsweetened and sugar-sweetened coffee was associated with lower risk for death." So enjoy that extra cup of Joe!