EverSafe Newsletter
SENIOR FINANCIAL PROTECTION NEWS
Providing thought-provoking articles, commentary and general information on issues related to aging and financial health.
Coronavirus and Retirement
REASSESSING NEXT STEPS
Many Americans who were nearing retirement are now reassessing their plans for the future. CNBC recently cited figures from Personal Capital, based on their survey of retirees and workers. Before COVID-19, 63% of American workers told Personal Capital they felt financially prepared for retirement. In their survey, that number had dropped to 52%. "More than a third who were planning to retire in 10 years said the financial fallout from Covid-19 means they'll delay," according to the piece. And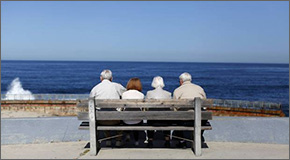 nearly 1 in 4 current retirees said that the economic impact has made them more likely to attempt to return to work. But challenges associated with COVID-19 should not distract those approaching retirement from two recently enacted laws that could affect their future. The SECURE (Setting Every Community Up for Retirement Enhancement) Act of 2019 is aimed at increasing access to retirement accounts and preventing Americans from outliving their assets. Among other things, the Act repeals the maximum age for traditional IRA contributions (currently 70.5), enables seniors to wait until they are 72 to take a Required Minimum Distribution (RMD) from retirement accounts, and permits long-term, part-time workers to participate in 401(k) plans. And the CARES (Coronavirus Aid, Relief, and Economic Security) Act is a new law intended to address the financial hardships brought about by COVID-19. This $2 trillion coronavirus legislation offers relief such as the suspension of RMDs for IRAs and other employer retirement plans, and no early withdrawal penalty on COVID-related withdrawals of up to $100,000 from IRAs, 401(k)s, and other qualified retirement accounts—until the end of the year.
LEGISLATIVE / GOVERNMENT UPDATE
WORLD ELDER ABUSE AWARENESS DAY
U.S. Senate resolution, S. Res. 621, passed on June 15th, recognized the 15th anniversary of World Elder Abuse Awareness Day (WEAAD). Senator Chuck Grassley sponsored the resolution. The text of the WEAAD Resolution (S. Res. 621) is available here. WEAAD was founded by Dr. Elizabeth Podnieks and the International Network for the Prevention of Elder Abuse (INPEA). It highlights the need for recognition of the prevalence of elder abuse, as well as resources and aging organizations that address it—including Adult Protective Services (APS). According to the National Adult Protective Services Association (NAPSA), the current COVID-19 pandemic has only exacerbated the crisis, in that isolation is widely recognized as a significant risk factor contributing to fraud and abuse in later life. EverSafe was proud to take part in NAPSA's first virtual WEAAD summit, and will share a recording of the event as soon as it's available.
POSSIBLE SECOND STIMULUS CHECK IS FODDER FOR SCAMMERS
We are four months into the coronavirus, and yet scammers are still hard at work—taking advantage of COVID-19. In April, the Federal Trade Commission estimated that virus-related scams had already cost Americans $13.4 million. And now, as Americans wait to learn whether there will be a second round of stimulus checks, there is a new opportunity for fraudsters: phishing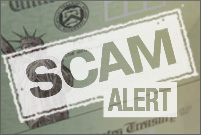 communications requesting personal and/or financial information in order to qualify for the additional $1200 payment. Despite the uncertainty about whether the second payment will happen, scammers will undoubtedly be acting upon consumers' anxiousness to receive this payment as quickly as possible. In discussions with loved ones about this virus-related check scam, remind them that the IRS will never contact them by phone, email, text message, or social media—or request or confirm Social Security numbers, financial account information, or any personal data. The FTC also warns that no consumer will ever be asked to pay a sum of money to get a stimulus check, nor will they have to deposit a check and then send money back—a maneuver often used by fraudsters in these types of scams. Reports involving stimulus check scams should be forwarded to ftc.gov/complaint.
Nursing Homes, Seniors, and COVID-19
HIGHER FATALITIES & CHALLENGES WITH MEDICARE
According to news reports, most coronavirus deaths have occurred in long-term care facilities. Research published this month in the Journal of the American Geriatrics Society confirms this fact. According to the study, by the end of May, the proportion of COVID-19 deaths in nursing homes and group homes rose to 81% in Rhode Island and Minnesota, 71% in Connecticut, and 70%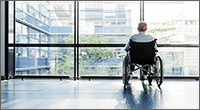 in New Hampshire. In 22 other states, at least half of virus—related fatalities occurred in long term care facilities. And for many older patients who have become sick with the virus, paying for care has been especially challenging. As many families are aware, Medicare covers the cost of rehab, either at a facility or at home—but only for up to 100 days. With the onset of the pandemic, many doctors and physical therapists have been unavailable to meet with patients. According to a piece in TheHill.com, on March 13, 2020, Medicare appeared to recognize this crisis and promised to give more time to patients who demonstrated that they were "prevented or delayed by the emergency" from completing their rehab. Since that announcement, Medicare has not followed-up with any further announcements on how these emergency benefits can be accessed. Without further instruction and support, older patients, still recovering from COVID, will "be trapped in a bureaucratic quagmire that threatens to cut off their care or drive their families into bankruptcy."
Musicians Continue to Connect Virtually
STEVE MARTIN AND THE PHILADELPHIA ORCHESTRA
Artists continue to touch us from their homes, as the pandemic wears on. Steve Martin joined the great Philadelphia Orchestra for a new take on his bluegrass tune "Office Supplies." This fun performance was for an At-Home Gala for listeners—performed at a social distance, of course. Hope it makes you smile. Happy Summer, from all of us at EverSafe.