EverSafe Newsletter
SENIOR FINANCIAL PROTECTION NEWS
Providing thought-provoking articles, commentary and general information on issues related to aging and financial health.
Hope on the Horizon?
TWO NEW DRUGS MAY SLOW THE PROGRESSION OF ALZHEIMER'S
Patients diagnosed with
Alzheimer's disease
, the most common form of dementia, may soon have new ways to delay the onset of memory loss and cognitive deterioration associated with the disorder. In a
trial
of more than 1,700 patients, a drug called Donanemab slowed the progression of the disease by about 35%, according to research
reported
this month at the Alzheimer's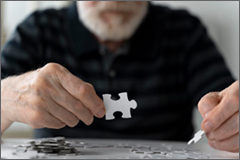 Association International Conference in Amsterdam. This study suggests that this drug is at least as effective as another newly approved drug called
Leqembi
(lecanemab), which was found to reduce progression by about 27%. "This is the biggest effect that's ever been seen in an Alzheimer's trial for a disease-modifying drug," according to
Dr. Daniel Skrovonsky
, director of research and development at Eli Lilly, which makes Donanemab. The drug Leqembi recently received full FDA approval and Medicare coverage will likely follow. Both of the drugs are designed to remove the plaque called beta-amyloid from the brain. Early treatment is critical and the Donanemab research was most focused on individuals with early dementia, known as mild cognitive impairment ("MCI"). Patients with more advanced cases showed less benefit from the drug. Experts have clarified that neither Donanemab nor Lequembi is a cure for Alzheimer's. Apparently, the benefit amounts to "only about a seven-month delay in the loss of memory and thinking," according to one
report
.
GOVERNMENT / LEGISLATIVE UPDATE
LAW GIVES CT BANKS EXPANDED FRAUD PREVENTION AUTHORITY
Connecticut legislators passed an aggressive law that will enable financial institutions, including banks and credit unions, to suspend the activity of exploiters who prey on older, vulnerable customers. In bipartisan support, Senate Bill 1088 passed unanimously and was recently signed into law by Governor Lamont – effective in July of next year. This new law authorizes certain employees of financial institutions to temporarily hold a transaction or disbursement involving an older customer's account if there is reasonable suspicion of financial exploitation. The new law also addresses when broker dealers and banks should notify designated "trusted contacts," as well as suspected power of attorney abuse. And to encourage financial professionals to report elder financial exploitation, those who act in good faith when suspending or holding a transaction will receive a degree of civil immunity from liability for protective measures when denying suspected wrongdoers access to a customer's funds.
Music Therapy and Dementia Patients
STUDY AIMS TO REDUCE SEDATIVES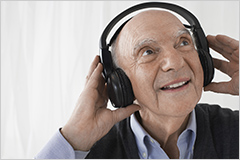 The National Institute for Health and Research is funding an important study on how music therapy can reduce patient distress and trauma for patients diagnosed with dementia. The study is called Music therapy Embedded in the Life of Dementia Inpatient Care ("MELODIC"). Distress and violence is common in hospital settings and antipsychotic medications are often utilized to calm patients. These sedatives increase the risk of falls and death. The study is building on research that found that distress incidents, including physical assaults, happened on wards on "7% of days when in-person music therapy was taking place, compared to 31% of days when there was no music therapy."
IRS ALERTS PUBLIC ABOUT NEW ID THEFT SCHEME
At a recent IRS Security Summit, a new fraud scheme was identified. The IRS is warning taxpayers to be wary of this scam that involves purported unpaid refunds. In the scenario, targeted victims are asked to provide a copy of their driver's license and

other personal information. The scammers may even send a cardboard envelope from a delivery service for the purpose of sending material that is ultimately used in the identity theft scheme. The enclosed letter includes IRS letterhead and directions that the notice is "in relation to your unclaimed refund." The letter proceeds to explain to recipients that they need to provide necessary "filing Information" for their refund. As in many scams, there are usually "red flags," according to the IRS. They may include odd punctuation and a mix of fonts. Taxpayers can report scams to the Treasury Inspector General for Tax Administration or the Internet Crime Complaint Center. The Report Phishing and Online Scams page at IRS.gov provides complete details. The Federal Communications Commission's Smartphone Security Checker is a useful tool against mobile security threats.
Rest in Peace, Tony Bennett
BELOVED CROONER PASSES AT 96
We would be remiss not to mention the passing of Anthony Dominick Benedetto, known as Tony Bennett, who was one of America's most popular and timeless singers of traditional and jazz music. It's ironic that the beloved 20-time Grammy winner died while suffering from Alzheimer's disease during the same month that two promising drugs to treat the disorder were highlighted in the news. But despite the challenges he encountered, Bennet inspired us in his golden years. He had a No.1 album at 85 and performed years after his diagnosis – through 2021, including a concert with Lady Gaga. Frank Sinatra once called Bennett the greatest popular singer in the world. Bennett was born and passed away in New York City and he loved his hometown: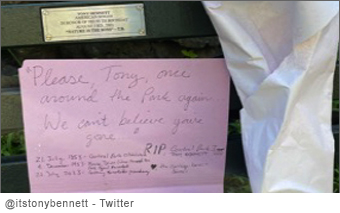 A few Central Park carriage drivers left this note on the Tony Bennett Bench, which you can find at the entrance of the park. This was one of Tony's favorite spots to spend an afternoon.