EverSafe Newsletter
SENIOR FINANCIAL PROTECTION NEWS
Providing thought-provoking articles, commentary and general information on issues related to aging and financial health.
February: The Month for Romance
SCAMS TARGETING SENIORS STILL RAMPANT
Older Americans lose tens of millions to romance scams, and the number of complaints filed has risen dramatically in recent years. Adults reported losing more money to romance scams in the last two years than to any other fraud reported to the FTC.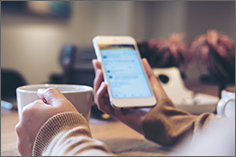 From 2015-2019, there were 84,119 romance-scam complaints filed with the Federal Trade Commission (FTC). And this figure doesn't reflect the number of romance fraud cases that went unreported because victims were embarrassed, ashamed, or unable to report due to issues like cognitive impairment. Loneliness is one factor that makes older adults particularly vulnerable to scams. According to an AARP summary of FTC data, "Online daters of all ages have fallen victim to the cruel crooks who break hearts and empty bank accounts. But…while the overall median loss resulting from a romance scam was $2,600, the median jumped to $10,000 when the victim was age 70 or older." Most of the money stolen was wired, according to victims who reported. Another common method of transferring funds, according to the FTC, was "…using gift and reload cards (like Moneypak)…People said they mailed the cards or gave the PIN number on the back to the scammer. Con artists favor these payment methods because they can get quick cash, the transaction is largely irreversible, and they can remain anonymous." How can victims be protected from romance scammers? Tips from the FTC include the following:
Don't send money or gifts to a sweetheart that you haven't met in person.
Talk with someone you trust about a new love interest. Pay attention if friends or family are concerned.
Take the new romance—slow. Ask questions and be mindful of inconsistent answers.
Try doing an online reverse-image search of the profile picture. If the image is associated with another person's name, or details don't match up, it is likely a scam.
Family members can help each other look out for romance scams by forming a team of loved ones and/or professionals who keep an eye on each other's finances. Alerts for suspicious activity, like new wired funds, prepaid gift cards, or large withdrawals of cash, can be shared—across the miles. Shutting down romance fraud at its inception can prevent tremendous heartache and the loss of life savings, as well.
NEW YORK LEGISLATION FOCUSED ON ELDER FRAUD
New York is the most recent state to announce legislation that will prevent seniors from being financially exploited. Governor Andrew Cuomo outlined these measures in the 2021 budget. The proposal includes the following: strengthening financial

institutions' ability to place a hold on a bank account of a vulnerable adult if there is sufficient reason to believe he/she is a victim of actual or attempted financial exploitation; providing banks with immunity from civil liability for placing a hold on certain suspicious transaction; and requiring reporting of that hold to Adult Protective Services. The Department of Financial Services will also create a new certification program for banking institutions to bolster training and education on elder fraud and financial exploitation.
Reversing Cognitive Decline?
PROMISING RESEARCH IN ALBANY, NEW YORK
Scientists from Albany Medical Center in upstate New York have conducted groundbreaking research that could mean progress in finding a cure for Alzheimer's disease and other types of dementia. The results of this study, published in the Journal of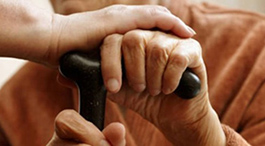 Experimental Medicine on Feb. 5th, highlighted the work of a team of immunologists and neuroscientists who found that targeting a specific immune cell, known as "group 2 innate lymphoid cells (ILC2s)" in the brain may improve age-related cognitive decline. According to a piece in CBS News, these immune cells help repair parts of the central nervous system. Using mice to conduct their research, they discovered that these cells collect in the part of the brain called the choroid plexus—a specialized brain barrier that provides a toxin barrier to the brain and other central nervous system tissue. They also found that these cells accumulate with age and have beneficial effects in alleviating cognitive decline in mice.
VALENTINE'S DAY NEWS—80 WIDOWER LOSES $200K IN ROMANCE FRAUD
An Oregon octogenarian lost $200,000 in a sophisticated online romance scam. The fraud began with the theft of a Florida's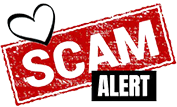 woman identity, according to the Oregon Division of Financial Regulation. The scammer then used the stolen identity to befriend and romance the 80-year-old through an online dating service. The romantic talk soon evolved into a proposal to support an art gallery in Florida, and the widower was induced to make a series of payments over several months to "various individuals and overseas bank accounts," totaling in excess of $200,000. The scammer promised the victim that these "investments" would be repaid, with a percentage of the profits. The fraudsters have not yet been apprehended.
Retirement Age in the US & Around the World
IS IT NOW EXCEEDING 65?
People once thought of 'retirement age' as 65 years old. That may be changing. Recent research by the Transamerica Center for Retirement Studies and the Aegon Center for Longevity and Retirement looked at the age at which workers now expect to retire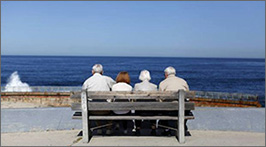 from their employment. The new age is nearing 67 years old. And according to an NBC piece summarizing the study, "a majority of US workers—54% plan to stop working at some point after 65, or never at all." Interestingly, the research also concluded that only about 30% feel very confident that they will be able to retire "in a lifestyle they consider comfortable—indicating a tacit understanding that retirement planning is falling short of what is required." The report established five fundamentals for retirement readiness: starting to save early and habitually; developing a written retirement strategy; creating a backup plan for unforeseen events; adopting a healthy lifestyle; and embracing lifelong learning. These are excellent tips for anyone—expecting to retire or not!