EverSafe Newsletter
SENIOR FINANCIAL PROTECTION NEWS
Providing thought-provoking articles, commentary and general information on issues related to aging and financial health.
Be a Santa to an Older Adult
GIFTING PROGRAM IN ITS SECOND DECADE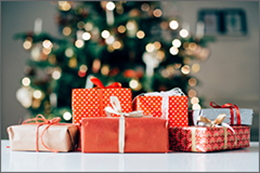 The holiday season can be especially tough for older adults, especially those who are living alone. The Be a Santa to a Senior is a collaboration between Home Instead and Amazon Business and sends presents and essential items to seniors – especially those who may be isolated. This program, which has been in existence for nearly two decades, delivered "more than 130,000 gifts to nearly 80,000 seniors" across the country. This year, Be a Santa to a Senior is enabling contactless gift-giving. By using Amazon Business' customized Wish Lists, "participants can purchase gifts requested by seniors in communities across the US. The gift will then be shipped with a personal message directly to the senior or local Home Instead office where it will be safely delivered to the recipient." If you are interested in making a contribution to this program, here is the link.
Walking and Mortality
INCREASING STEPS MAY LENGTHEN LIFE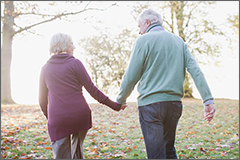 Scientists have known for some time that exercise plays a critical role in staying healthy. And many Americans have already been keeping track of their daily steps count through cellphones, smart watches and other devices. A recent peer-reviewed study focused specifically on the number of steps taken per day by participants in middle age. The research, published in JAMA, revealed that there may be a direct correlation between steps and longevity. More specifically, there was a "50 – 70% lower risk of premature, all-cause mortality for those who log at least 7,000 steps per day."  But no need to overdo it: taking more than 7,000 steps per day was not associated with further reduction in mortality risk.
LESSONS LEARNED FROM 2021
If You Donate, Make Sure the Charity is not a Scam
For most of us, the holiday season brings thoughts of family, friends and happy times. But beware: Scammers see it as an opportunity to exploit people's generosity and good intentions. Charity fraud always jumps this time of the year, according to the FBI.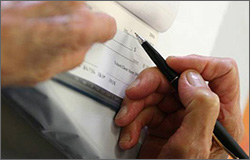 Criminals make use of crowdfunding platforms, social media accounts, websites, emails and telephone calls to profit from people's desire to contribute. Charities that pretend to represent veterans and provide relief for disaster victims are among the most common schemes. Not surprisingly, we've seen a leap in frauds that claim to help victims of COVID-19.
Fortunately, donors can take some easy steps to protect themselves. You can learn if an organization is eligible to receive tax deductible charitable donations by clicking here. A legitimate charity will provide you with its Employer Identification Number (EIN), which enables you to learn more by clicking here.
Further online homework may tell you about an organization's reputation. According to the Federal Trade Commission (FTC), it can be prudent to search an organization's name along with words like "complaint," "review," "rating" or "scam." You also can include words like "best charity" or "highly rated" in your search.
To ensure that your donations go to a real charity, the FBI offers an array of tips:
Give only to established organizations whose work you know and trust.
Watch out for copycat names or names similar to reputable organizations. These names are designed to mislead the donor.
If you donate, use a check or credit card. Watch out if a charity seeks cash, gift cards, virtual currency, or a wire transfer. Those are all red flags.
Be wary of newly formed organizations that claim to aid victims of recent, high-profile disasters.
Nobody wants their donation to line the pockets of crooks, and with some precautions you can avoid that outcome. Individuals who become aware of a scam can blow the whistle by going to the FTC's fraud report page.
* * * * *
Prize Scam Targeted "Lucky" Seniors
The personalized letters, mailed across the U.S. from 2013 to 2016, informed "lucky" recipients that they had won big cash prizes. All they had to do to claim the money was pay a fee, which ranged from $20 to $40. Millions of recipients, mostly older adults, quickly responded.
But they weren't lucky at all. They were targets of an elder fraud, the U.S. District Court for the Eastern District of New York revealed in November. Prosecutors said scammers mailed hundreds of thousands of the fake prize notices, pocketing more than $13 million from their crime. They charged three men with conspiracy, mail fraud and wire fraud.
The FBI calls this crime an "advance fee scam," in which victims pay up front for something they will never receive. One of the protections is common sense: If an opportunity sounds too good to be true, it probably is. "Elder fraud schemes present a serious threat to the financial security and the well-being of America's seniors," said Acting Assistant Attorney General Brian M. Boynton of the Department of Justice's (DOJ) Civil Division. In response, law enforcement officials seek to make older consumers more aware of scams so they can protect themselves, DOJ officials said.
If you or someone you know is age 60 or older and the victim of financial fraud, you can call the National Elder Fraud Hotline at 1-833-FRAUD-11 (833-372–8311).
* * * * *
Pandemic Isolation Led to Elder Fraud 
While millions were stuck at home last year because of the pandemic, fraudsters got to work exploiting older adults.
In its annual report to Congress, the Justice Department said it had launched more than 220 criminal and civil enforcement actions from July 2020 through June 2021 covering at least 20 types of scams that targeted older Americans. "The victims of the crimes described in this Annual Report are our parents, grandparents, neighbors, and loved ones," said Associate Attorney General Vanita Gupta, noting the dangers of social isolation.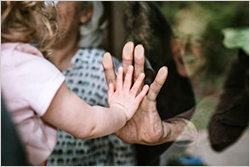 The FBI froze more than $279.5 million before it was wired and likely lost forever, including $13.5 million involving older adults, the report said. But that's just a drop in the bucket. The FBI's Internet Crime Complaint Center reported that more than 100,000 scam victims over the age of 60 declared losses totaling at least $1 billion. This age group accounted for 28 percent of all fraud victims.
People lost the most money when they fell for romance and confidence scams, thinking the fraudster was actually a real person they knew, according to the annual report.
One 2020 initiative aimed to bust "money mules" – intermediaries who assist fraudsters by funneling their money to others who then park it overseas. In a two-month period, investigators targeted 2,300 money mules.
One such defendant was sentenced to 40 months in prison for conspiring to commit money laundering, the U.S. Attorney's Office for the District of Columbia announced. His scheme involved creating aliases and shell companies to launder proceeds from crimes involving lottery fraud, impersonating relatives and hacking emails. In another case, a mule pled guilty to his role in a gift card scheme in Virginia, where the fraudsters posed as IRS agents.
And in another money mule case, fraudsters used pop-up computer messages to convince people their computers were infected with a virus. When they called the number on the message, thinking they were talking to a technical help company, they instead reached a criminal gang in India, who tricked them into paying fees for a non-existent problem. The 'mule' pled guilty in June 2021 to conspiracy to commit wire fraud, admitting she was a leader in the $10 million technical support scheme, according to the U.S. Attorney's Office for the Southern District of New York.
To protect yourself against such scams, Microsoft advises consumers not to call any phone number if it is included in an error message on your computer. Most companies, like Microsoft, do not include phone numbers in its error messages or warnings. Nor will their support staff ever ask for payment in gift cards or cryptocurrency.
* * * * *
Robinhood Breach Shows that Emails are Vulnerable
Email addresses for 5 million people, full names for 2 million customers, several thousand phone numbers and more extensive personal information for hundreds of others were exposed in a data breach at Robinhood, an online trading platform.
The brokerage reported that the hacker "socially engineered" a customer support employee by phone, gaining access to customer information. The hacker then demanded an extortion payment.
Although no Social Security numbers or bank account information was at risk, customers could now be exposed to spam, phishing scams, or even identity theft.
Anyone whose data was compromised should take safety measures, such as changing passwords, using two-factor authentication, and staying diligent when opening emails. At EverSafe we believe that you and your savings deserve special protection every day. Our fraud prevention technology scours the Dark Web daily so that you and your loved ones can stay ahead of scammers.
If you believe you have been affected by a data breach, or you have questions, just give us a call at 1-888-575-3837.
GOVERNMENT / LEGISLATIVE UPDATE
BIPARTISAN SUPPORT TO PROTECT OLDER INVESTORS
A recent piece in Investment News provided a summary of how preventing elder fraud has become a consistent bipartisan issue in Washington – even when lawmakers aren't working together on most other subjects. Examples given included a unanimous vote by the House Financial Services Committee earlier this month to approve of legislation that would support grant programs for states to combat elder financial abuse. The Empowering States to Protect Seniors from Bad Actors Act is now heading to the House floor, where it could be approved on a fast-track procedure. It amends the Investor Protection and Securities Reform Act of 2010 to provide grants to states for enhanced protection of older investors and senior policyholders.
A Remarkable Centenarian
ANGELA ZERAD IS INSPIRING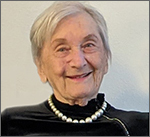 Need some inspiration this holiday season? Read about Angela Zerad, who just observed a wonderful milestone: her 100th birthday. A gifted pianist who played throughout her life, Angie celebrated by performing an hour-long recital at the assisted living residence where she resides. Enjoy the snapshots, including one of Angela at 100 – with her daughters. It's hard to believe this woman is a century old!