EverSafe Scam Watch
Protecting Your Financial Health
Hurricane Ian brought Wind, Water and Scams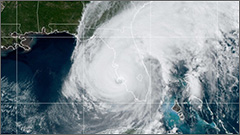 Hurricane Ian caused billions of dollars in damage – and the danger is not over. Even as the ferocious storm has faded away, authorities are warning about scammers who seek to exploit its victims.
These kinds of crooks are dubbed "storm chasers." Once the weather calms down, they show up and pretend to offer help to individuals who need insurance, donations or government benefits. Or they trick people into making contributions to fake charities.
One way or another, they make off with money that should go to victims. According to CBS News, three types of disaster fraud are most common:
Phony contractors. Scammers show up after the storm and station themselves at a shopping center or in a recreational vehicle, and pretend they can help people get quick repairs by signing a contract. But the fine print steers any insurance payment to the scammer, leaving the property owner high and dry. "Vulnerable people will think they're getting a quick solution – but they won't be," warned David Glawe, CEO of the National Insurance Crime Bureau.
"Dirty" clean-up crews. This fraud often targets older adults or people with disabilities who are face with a huge mess after the disaster. Criminals go door to door offering to clear trash, tree branches and other debris, charging a few for the service. They then vanish without doing the work.
Fake roofers. These crooks knock on the door and offer to inspect your roof for damage. But instead of inspecting, they may quietly vandalize it, such as by stepping on the roof with golf balls hidden under their shoes. As with other storm chasers, they find ways to capture the insurance money, leaving homeowners in the lurch.
Scammers may exploit natural disasters in other ways, such as by pretending to be government officials. The Federal Communications Commission cautions the public not to respond to phone calls, texts or email from someone who says they are a disaster-relief official and then asks for money or personal financial information. The Federal Communications Commission cautions the public not to respond to phone calls, texts or email from someone who says they are a disaster-relief official and then asks for money or personal financial information.
The FCC advises consumers to protect themselves from disaster scams by following these guidelines:
Don't provide personal data to a stranger who tries to talk to you about an insurance claim. Before proceeding, contact your insurance company to confirm that the stranger is legitimate.
Verify information you see on social media, which is often a platform scammers may use to lure victims into a fraud.
Confirm the identity of anyone who calls and says they are from the government. If you get such a call, hang up and call back on a number from the government agency's official website.
Only make donations to trusted charities. Scammers may exploit people's goodwill after a disaster and pretend to represent charities in a bid to capture money.
You can find more consumer information about disaster scams by clicking here.
And if you or a loved one were affected by Hurricane Ian, you can monitor for suspicious financial activity for yourself – or a loved one. A technology service that 'looks for' evidence of disaster scams can be a lifesaver during recovery.
Bank Industry Responding to Fraud
Fraudsters increasingly see bank customers as ripe targets, a trend that has been driven by the rise of mobile payment apps, which are often linked to bank accounts. Now, the American Bankers Association (ABA) is fighting back.
The ABA reports that in 2021, U.S. consumers lost $5.8 billion to scammers who often pretend to be banks, using emails and phone calls. In a new campaign, "Banks Never Ask That," the ABA is trying to help consumers spot red flags before a theft can take place.
The site includes a video game with tips – such as that banks will never ask for your PIN number – an interactive quiz, and other useful information. To avoid scams, the ABA advises:
Check all bank requests carefully. If someone wants you to act on your account, tell them you will call back. Then go to your billing or account statement and call the phone number that you know is authentic.
Never click on a link in an email that you are not certain of. If you see an alert on your account, go to the bank's website to check if it's authentic.
Don't ever give out your password or PIN number. Banks do not ask for that information.
Look for misspellings and typos in emails.
If someone is pressuring you to act now, be suspicious. Banks won't push you to take action immediately.
Scams Spread on the College Campus
While scammers often specialize in elder fraud, young adults are also in their sights, particularly college students who are still gaining experience at handling their money safely.
Scams designed to exploit college students include: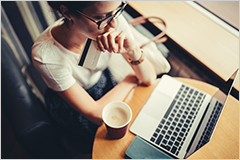 Financial aid that isn't there. Scammers may reach out to students with a fake offer of a scholarship or grant. They request personal information or payment by gift card or money wire – and then disappear.
Tuition trickery. Criminals claims that students owe tuition money, and that their college enrollment is in jeopardy unless they pay fast. But it's all a lie.
Jobs that don't exist. The scammer contacts students online with a promise of easy money from a job – provided the student first sends them a fee.
Textbook swindles. Cheap online offers for expensive textbooks can seem very attractive to hard-pressed students. But in this scam, the books don't exist, and students who take the bait end up losing their money.
Rental rip-offs. The fraudster pretends to be a property manager or landlord offering students a place to live. The scammer demands payment to show the student the residence or complete the deal, and the student then learns that the offer was a hoax.
…And Colleges Begin to See a Teachable Moment
In a bid to protect students, Boston College recently unveiled a strategy to raise awareness about phishing – the practice in which scammers send fake emails or other communications in a bid to capture personal information or payments from targets.
As part of BC's "Phishing Simulation" program, the private Jesuit research university will send phony emails to students. Students who click on links in the email will be steered to educational web pages that explain what they should watch out for when receiving such messages online. The program comes in the wake of a fraud last year in which some BC students lost more than $1,000 to a "student employment opportunity scam."
"There are no punitive consequences for clicking on one of the phony phishing emails," BC explained to students in a real email. "It's just a teachable moment."