EverSafe Scam Watch
Protecting Your Financial Health
World Elder Abuse Awareness Day: June 15th
World Elder Abuse Awareness Day (WEAAD), commemorated on June 15th every year, should serve as an annual reminder to take action to prevent abuse in later life. Elder financial abuse was already a $37 billion business in the U.S. before the pandemic.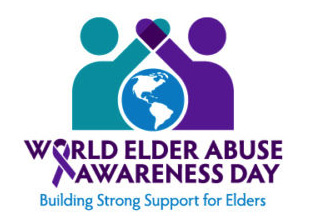 COVID-19 has intensified this crisis by giving scammers new opportunities to target older people who are sheltering in place, isolated from loved ones. The most common COVID-19 scams persist. They involve phone calls, emails, and text messages with phony cures and testing kits. Occasionally, the call or text is 'spoofed' so that it appears to be from the government or a financial institution. One particularly vexing government imposter text appears to offer a stimulus payment, according to the FCC. It begins with "IRS COVID-19 News" and includes a link with instructions for its recipients: "to register/update your information in order to receive the economic impact payment regardless of your status." Not surprisingly, the link then takes the user to a landing page that is designed to look like an IRS site. It then requests personal identifying information, such as date of birth, social security number, and filing status. The FCC offers sample audio footage of scam calls on this page. These recordings are very helpful and should be useful in family conversations or advance planning sessions with loved ones or clients who may be susceptible to scams. Please check cdc.gov/coronavirus for additional information about Coronavirus scams.
COVID-19 Fraud in Your State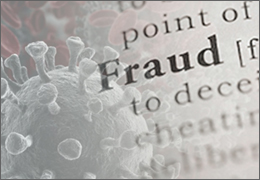 Are you curious about what categories of fraud are prevalent where you live? Or in the state where your older parents reside? The FTC has a great new link that will give you state-specific data on Coronavirus-related issues, as well as an 
FTC data dashboard
 that enables you to click on a state to see what residents have been reporting. Interestingly, identity theft is usually not the most common type of financial abuse reported—across the states. Fraud that does not involve credit data has higher numbers. Common types of cons include travel industry rip-offs, online shopping fraud, credit card abuse, bogus sales of health care and diet products, romance scams, and others. Of note is the 
graph showing fraud and identity theft trends during the pandemic
 as they are strikingly higher than the months preceding the virus.
Be Vigilant—Scammers are Working Overtime
COVID-19 related scams have evolved for the worse. Fraudsters are constantly heightening the ways in which they prey on people's fears. And older people, who are home alone without the support of loved ones, may be the most vulnerable. The new frontier for scammers is contact tracing. As most of us have learned in the last four months, the purpose of contact tracing is to identify and monitor people who have been in contact with individuals who have tested positive for Coronavirus. After they have been alerted to their exposure to COVID-19, they are instructed to quarantine. This system is overseen by a state's health department. The infected individual routinely provides names and contact information for the people he or she has been in contact with—when known. Those names and phone numbers are kept in an online data base, and the folks contacted will often get a text message from the state, informing them they'll receive a call from an 'official tracer.' The legitimate government tracer who calls will not ask for personal information and/or credit card or bank account numbers.
Scammers, naturally, have learned about this process and are now taking advantage of it in their phishing schemes.  They call or send phony text messages to unwitting consumers, falsely alerting them that they have been in contact with infected individuals. According to the FTC, their spam text messages ask the recipient to click a link. See a sample text message below: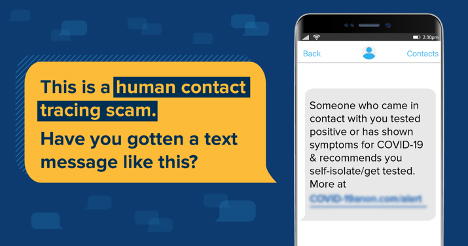 Clicking that link could install malware that steals the recipient's personal information, or asks them to answer questions involved in a larger fraud scheme. Please alert your loved ones to this nefarious scam, which plays on the fears and anxieties of many of those who plan to shelter in place for some time.
Unemployment Scams—on the Rise
A popular new scam has surfaced involving false claims for unemployment benefits. The federal government reports that bogus applications which contain victims' personal information are being filed—personal information that was likely compromised as a result of prior breaches or sold on the Dark Web. Claims are being filed on behalf of people who are still employed or who retired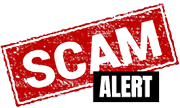 years ago, according to reports. In that many of these payments are sent straight to the scammer's direct deposit account in the victim's name, the activity is brought to light when still-employed folks received notifications in the mail related to these benefits. Often, they involve the victim's social security number. Like the IRS scam, in which a fraudster files for a phony refund using a real taxpayer's name and personal data, credit monitoring is not likely to alert the unwitting victim. This is because the thief usually opens an unauthorized depository account (activity not covered in the credit report), in which to direct the phony refund. In order to protect yourself, loved ones, and clients from these schemes, consider looking out for the opening of unauthorized depository accounts with comprehensive monitoring that covers all financial accounts, credit cards, and the credit report.