EverSafe Scam Watch
Protecting Your Financial Health
Watch Out for Social Security Scams in the New Year
Social Security officials recently warned the public that scammers were busy during the holiday season with a special interest in older adults. While the holidays are now over, elder fraud is a threat to people's life savings all year long, and schemes involving Social Security remain a concern for 2023.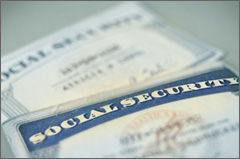 Scammers often send texts and emails that appear to come from the Social Security Administration (SSA) as a trick to capture personal information or get you to send cash. But don't be fooled. The SSA only sends text messages and emails in certain situations, such as for individuals who have agreed to receive updates. Importantly, it will never ask you to send payments in the form of gift cards, wire transfers, cryptocurrency, or cash in the mail.
Scammers who pretend to work for the SSA rely on certain techniques to hoodwink the public. Among the red flags to watch for:
Texts or emails that display pictures of an SSA "employee's" official federal government identification.
Messages that threaten to suspend your Social Security number, arrest you, or take other legal action unless you pay a fine or fee right away.
Requests for payment by retail gift card, wire transfer, internet currency, or money in the mail.
Promises to boost your benefits or provide other aid in exchange for cash.
Purported official letters or reports sent in an email that contain your personal, private information.
If you receive this type of suspicious communication, make sure not to respond or click on links. Instead, you can report it to the SSA's Office of Inspector General at https://oig.ssa.gov/report/ or by clicking here.
Consumer Tip: Fraudsters Seek Personal Data – and More
Scammers who impersonate federal officials may say they must confirm your personal information for you to receive a government benefit. The Justice Department warns that scammers have used this trick by pretending to be from the Treasury Department, Internal Revenue Service, Medicare, and the U.S. Department of Health and Human Services, among other agencies.
In one recent example, scammers told potential victims to provide private financial data before they could receive Social Security's 8.7 percent inflation hike for 2023. [The cost-of-living adjustment is automatic, and requires no information from recipients.]
The Senate Aging Committee last year identified such government impersonation scams as the Number One source of complaints it received from 2015 to 2020. But that's just one of the many fraud techniques reported to the panel. Other top scams reported to the Senate Aging Committee revolved around:
Phony sweepstakes prizes
In this scam, scammers inform targets that they have won a prize, such as a new car or cash windfall from a lottery. But there's a catch: To collect the reward, victims must pay a fee to cover processing costs or taxes – and such payments might total thousands of dollars. Thieves often tell victims to keep the happy news a secret, which enables the crook to avoid detection. They may also impersonate well-known organizations in an effort to appear more credible. If the scheme is working, scammers may continue to press their victims for further payments.
Illegal robocalls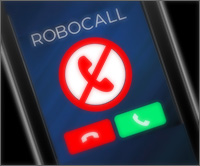 Such automated, pre-recorded phone calls are more than just a nuisance: Robocalls are a low-cost technique used by criminals around the world to reach a vast audience for a variety of scams.
Some robocalls, such as those from political groups, debt collectors and legitimate charities seeking donations, are legal. But a great many are not, particularly when the call is unexpected and the voice asks you to pay for something with a gift card.
Criminals use robocalls to identify and manipulate potential victims, which may include connecting trusting individuals with scammers. Robocalls that come from overseas may look on a caller ID screen as though they originated in a local area code. In addition, crooked robocalls may come with fake identifiers, such as from an established institution you trust. If you receive a dubious robocall, the Federal Trade Commission advises you to refrain from pressing any numbers and hang up.
Fake computer repairs
In this fraud, con artists may pretend to work for a well-known tech company (like Microsoft or Apple) to gain the trust of their targets. But the real goal is to steal from them, such as by getting remote access to their computers and exploiting valuable personal data, including bank account numbers.
For example, scammers may claim falsely that a victim's computer has been infected with a virus. The next step is to let the victim know they can fix it. This can happen when you are browsing on the internet and a fake security warning pops up on your screen. A fraudulent pop-up window may instruct you to contact a tech support representative who is actually a scammer. In reality, your computer may be working perfectly. But according to the Senate Aging Committee, such pop-up windows have enabled crooks to hack into their victims' computer and force them to pay a ransom to regain control.
Grandparent Scams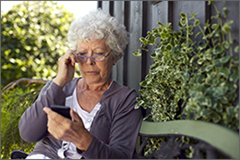 There are several variations of this common fraud, but they all tug on the heartstrings – and wallets – of grandparents who wish to protect their loved ones. The caller may pretend to be a grandchild or a law enforcement officer. But the message is the same: A child desperately needs money for an emergency, such as to pay for medical care or get out of jail. The Senate Aging Committee has heard stories of scammers telling grandparents that they broke their noses in an accident, which is why their voice sounds different. The FTC advises people who receive such calls to refrain from sending cash, and instead take steps to confirm the story by checking in with another family member – even if the scammer said not to do so.
Senate Fraud Hotline
The Senate Aging Committee maintains a toll-free Fraud Hotline that can guide individuals on how and where to report incidents of fraud. The number is 1-855-303-9470, and the line is staffed 9 am to 5 pm Eastern Time, Monday through Friday. You can also send a message to the Senate panel by clicking here.
You can always forward a suspicious email or text message to Hotline@EverSafe.com for our assessment of whether the communication is legitimate. Just be careful not to click any links when forwarding us the message.