EverSafe Newsletter
SENIOR FINANCIAL PROTECTION NEWS
Providing thought-provoking articles, commentary and general information on issues related to aging and financial health.
Beware of Scams After a Hurricane
FRAUD SURGES IN WAKE & AFTERMATH OF NATURAL DISASTERS
Hurricane Dorian was the most damaging hurricane to strike the Bahamas and is regarded as the worst natural disaster in that country's history. Although the effects on the US were far less devastating, it served as a reminder of how common scams are both before and after natural disasters. Two of the most common schemes are price-gouging and phony charity scams. Price-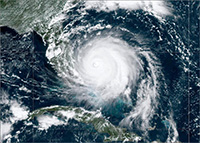 gouging in advance of a natural disaster, for things like food, gas, and utilities, is illegal, according to the Better Business Bureau. State attorneys general will consider penalties for price-gouging when a state of emergency is declared. "Scammers pretending to help Hurricane Dorian's victims are coming for your money," Florida Chief Financial Officer Jimmy Patronis told a Florida news station. According to the FCC, phony charity scams are a significant problem in hurricane-affected areas. The agency warns that scammers create legitimate-sounding charities with the sole purpose of stealing cash from unwitting consumers who believe they are helping to raise money for a good cause. There are a number of organizations that can be used to verify if a charity is legitimate. These include: Charity Navigator, Charity Watch, GuideStar and the BBB's Give.org. In addition, the FCC warns against "opening suspicious emails and urges everyone to be skeptical about social media, which can host crowdfunding campaigns without any real transparency."
ADDITIONAL STATES IMPLEMENTING 'REPORT AND HOLD' STATUTES FOR ADVISORS
Financial advisors and broker dealers are often the first to identify potential cases of elder financial exploitation. Federal regulators, including FINRA (Financial Industry Regulating Authority), the SEC (Securities and Exchange Commission), the CFPB (Consumer Financial Protection Bureau), and the NASAA (North Atlantic Securities Administrators Association) recognize this and have provided guidance or passed rules that encourage or require reporting of suspected elder financial abuse. State governments, too, are making changes to their current regulatory regimes to respond to the enormous losses associated with the exploitation of seniors and vulnerable adults. New Hampshire is one state that recently adopted such legislation. The bill which took effect Sept. 8, is quite similar to FINRA Rule 2165, and permits broker-dealers and investment advisors to delay disbursements from accounts when they have reason to believe the request may result in financial exploitation. California also passed legislation this month targeting financial abuse of elder and dependent adults. The new law, Cal. Wel. & Inst. Code § 15630.2, now requires broker-dealers and investment advisers to report suspected financial abuse of covered persons. Consistent with statutes enacted in other states, California's statute enables broker-dealers and investment advisers to delay disbursements or transactions in certain cases—if certain conditions are met. The new law also enables broker-dealers and investment advisers to disregard powers of attorney when they believe the agent or attorney in fact is the suspected exploiter—if a report has been made under the statute. The new law will become effective in 2020. For a clickable map that outlines state reporting requirements for financial services professionals, click here.
Aging & Financial Health
MIDDLE-AGE FINANCIAL HARDSHIP LINKED TO DECREASED LONGEVITY
Aging researchers have long considered our lifestyle choices, living environment, and genetic disposition as important factors affecting longevity. But a recent study suggests that an individual's financial health may be a critical consideration in making this assessment. Researchers from the Center for Healthy Aging and the Department of Public Health at the University of Copenhagen in Denmark concluded that four or more years with an income below the relative poverty threshold during adult life add significant risk to when the body begins to show signs of aging. The study evaluated 5500 middle-aged individuals, using aging markers including physical capability, cognitive function, and inflammatory level. The results were then compared with the participants' income during the 22 years leading up to the test. An annual income of 60% below the median income was considered "relative poverty." This research found a correlation between economic hardship and premature aging. The study appears to be consistent with a recent study from the University of Texas and the Department of Justice that found that elder financial abuse had the lowest survival rate of any type of elder abuse—tied with caregiver neglect. Both studies underscore the need to put preventive measures, like financial monitoring, in place before loved ones' financial health is significantly compromised.
Dementia-Friendly Businesses: The New Normal
RESTAURANTS FOR THOSE LIVING WITH CHALLENGES
Dementia-friendly restaurants are becoming more popular across the United States. Several restaurants have created environments that provide easier access and more comfort to those living with physical and cognitive challenges. A number of them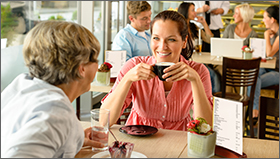 are training employees to learn how to best interact with customers living with age-related conditions in an effort to give them the best dining experience possible. Some of these restaurants have started to include a seahorse symbol to let customers know they are considered dementia-friendly. One recent addition is a restaurant called Famous Toastery, which in late summer became the first official dementia-

friendly restaurant in Northern Virginia. The owner of the restaurant, Diane Reedy, had been a caregiver for her mother—who lived with dementia for many years. According to a piece highlighting the new eating establishment, she was inspired by the "challenges of care partners and their struggle to stay connected, have supportive socialization opportunities, and share joy with their family members." Like many dementia-friendly restaurants, the environment is senior-friendly, with large handicapped accessible bathrooms, wide aisles for wheelchair and walker navigation, tables that accommodate wheelchairs with well-spaced bases, quiet areas that mitigate stimulations and noise distraction, and a menu with "upscale" as well as "traditional" dining choices.