EverSafe Newsletter
SENIOR FINANCIAL PROTECTION NEWS
Providing thought-provoking articles, commentary and general information on issues related to aging and financial health.
EverSafe in the News
AARP BULLETIN HIGHLIGHTS EVERSAFE IN ARTICLE
ON PREVENTING ELDER FRAUD
An article in the September AARP Bulletin focused on elder financial abuse, chronicling allegations of exploitation involving two well-known seniors—88-year-old Buzz Aldrin (the second astronaut to walk on the moon), and Marvel cartoonist (Spiderman), 95 year old Stan Lee. The piece covered what to look for in assessing an individual's vulnerability, and demonstrated that fraud in later life can happen to anyone. Seven expert-approved prevention tips were offered to seniors and caregivers in the piece. They include advance planning, keeping in regular touch with seniors, utilizing direct deposit of checks, and initiating a monitoring service that tracks activity and notifies a trusted party regarding suspicious activity—like EverSafe.
The piece also referenced EverSafe in a podcast from the AARP series: "The Perfect Scam", which featured the landmark Brooke Astor case, in which her only son was charged and convicted of stealing from her estate after she was diagnosed with Alzheimer's disease.
Dementia Severity Affected by Time of Year
RESEARCH FOCUSED ON SEASONAL COGNITIVE DECLINE
A fascinating piece in Science Daily covered scientific research focused on whether cognition is affected by the time of year. The study's conclusion was interesting: both healthy adults and those diagnosed with Alzheimer's

disease have better cognition skills in the late summer and early fall than in the winter and spring (PLOS Medicine; Andrew Lim). The research indicated that the difference in function was equivalent to a cognitive effect of 4.8 years difference in age-related decline. Although the study was limited in its geographical scope, its conclusions suggested that mechanisms underlying seasonal improvement in cognition may open the door to understanding Alzheimer's disease and other dementias.
CONGRESS PASSED LEGISLATION REQUIRING CREDIT FREEZES TO BE FREE OF CHARGE
Consumers and professionals who are concerned about identity theft and other types of fraud affecting seniors and family members have been given a boost by Congress. Credit bureaus are now required to make credit freezes available to consumers at no charge, as part of legislation signed by the president in the spring. A security freeze, which was once subject to a small fee, makes it more difficult for scammers to use stolen personal information (from data breaches and other events) to open unauthorized credit-based accounts in a victim's name. In order for the freeze to be effective, it must be placed at all 3 bureaus (Equifax, TransUnion and Experian). Once a freeze is placed on a consumer's credit file,
the bureaus will not give information to lenders and vendors upon the opening of a new account unless and until the individual "thaws" the freeze using a special personal identification number ("pin") provided by the bureau when the file is frozen. A guardian, conservator or power of attorney can obtain a freeze on behalf of the person they represent, as well.
Caveat: Freezing credit may give seniors and their loved ones a false sense of security. Many individuals believe that this is all they have to do to protect their finances. The truth is that there are countless scams that will never affect a victim's credit report. Comprehensive monitoring, such as that provided by EverSafe, that includes all financial accounts (checking, savings, investment, retirement—as well as credit based accounts and credit report data) provides far broader protection.
Consumer Reports: Establish Online Banking to Avoid Fraud
SILVERBILLS AND EVERSAFE CITED AS USEFUL TOOLS
An article in the September issue of Consumer Reports focuses on the advantages of using online banking to protect against financial abuse. "Tech-averse seniors may think that by staying offline they can avoid web-based scams that cost so many consumers both money and peace of mind" according to Allen St. John. But security experts and financial institutions disagree, arguing that the instant access to online accounts makes them easier to monitor. SilverBills, a service that handles household bills for seniors electronically and EverSafe, a fraud monitoring service that protects the financial health of seniors and their families, were highlighted as helpful technology tools.
Canceled Accounts
PHISHING THROUGH PHONY NOTIFICATIONS
A popular scam is aimed at the growing number of individuals who shop or do business online. Official looking emails that appear to be from reputable vendors or businesses are sent to potential victims, warning them that their account is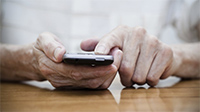 about to be suspended unless they provide 'updated' payment information. The link is usually directed to a site requesting login credentials or personal data in order to continue service. Netflix was one company recently imitated in this widespread scheme. A close examination of the sender's address will often show aberrations. Seniors and loved ones should be educated to take extreme caution when assessing emails from businesses requesting that personal or payment information be "updated." These requests are often fraudulent. If there is any doubt, a call can be made to the company's official number to confirm that the request is legitimate. Reports of a fraudulent notification should be reported to the FTC.
 Happy Fall from all of us at EverSafe!