EverSafe Newsletter
SENIOR FINANCIAL PROTECTION NEWS
Providing thought-provoking articles, commentary and general information on issues related to aging and financial health.
Equifax Breach
CNN REFERENCES EVERSAFE IN PIECE ON 5 THINGS TO DO RIGHT NOW
Equifax discovered a data breach on July 29, 2017 and on August 2nd hired a professional cybersecurity firm to assist the company in understanding what had happened, according to CNN. The firm determined that breaches occurred between May 13 and July 30, 2017. Hackers had access to customer names, Social Security numbers,

birthdates, addresses, and in some cases driver's license numbers as well. An estimated 143 million people in the US were affected by the breach. A CNNMoney article outlined strategies for protecting against fraud, including the importance of monitoring services like EverSafe for identifying suspicious activity in financial accounts and credit report data. Consumers should not rely solely on credit report monitoring to determine whether they have been victimized. Liz Loewy, EverSafe's General Counsel, told CNN, "Sometimes there's theft that never makes it to the credit report."
In a recent Time Money article on the breach, EverSafe's CEO Howard Tischler was asked about what consumers should do in the wake of the breach. He opined that "A credit freeze will only block the opening of a new account…what about an existing account, or your bank account, or investing accounts?" The piece referenced EverSafe as a "more comprehensive" security system.
---
Natural Disaster Protection
IN THE WAKE OF HURRICANES HARVEY AND IRMA, BE VIGILANT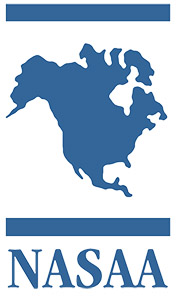 Although we've all heard heartwarming stories of individuals helping one another rebuild in both Texas and Florida, there are also reports of criminals exploiting the misfortune of those who survived these storms. According to the Federal Trade Commission, consumers need to do research before giving to a charity. Following a natural disaster, be sure to avoid organizations that ask for donations in cash or a wire transfer, or express thanks for a pledge you haven't made. Consumers should also beware of communications that appear to be from known businesses or utilities, with a slight change in the name. If you do suspect criminal activity, take time to report it here. The North American Securities Administrators Association ("NASAA") has shared three fraud protection tips for storm survivors:
— Delete all emails and social media messages from senders you do not recognize;
— Low or no-risk investment offers are red flags, do not respond to these solicitations;
— Before responding to any offer, contact your state securities regulator to make sure that the seller is licensed. Contact information by state is here.
---
Retirement Security can be Compromised by Fraud
1 IN 18 OLDER ADULTS FALLS VICTIM TO SCAMS
A recent survey conducted by the NASAA concluded that most state securities regulators have witnessed an increase in senior financial fraud and abuse in the past year. And the victims include consumers who don't suffer from cognitive impairment. In fact, research from the American Journal of Public Health found that 1 in 18 'cognitively intact' older adults will fall victim to financial fraud. EverSafe can help seniors identify the warning signs of exploitation on financial accounts and credit reports by alerting members, and their designated loved ones and professionals, to potential fraud—to ensure that their nest egg doesn't fall prey to scammers.
---
AARP Fraud Prevention Quiz
INCREASE YOUR KNOWLEDGE AND PROTECT LOVED ONES
AARP provides excellent resources on current scams as well as information on strategies that will help prevent fraud. An 8 question AARP fraud quiz tool was recently posted to the Washington Post website. The tool outlines the importance of adult children educating themselves about current scams and then sharing that information with their aging parents. Adults over the age of 60 are less likely to report fraud, a problem that can be curtailed if families spend more time talking about prevention.
---
FBI "QUESTIONNAIRE" SCAM
Beware of an email scam that purports to be a message from the IRS and/or the FBI about a new law on tax compliance. There is a link in this email to a "questionnaire" that, once clicked by the victim, enables the scammer to seize control of their computer. If you do have a personal tax issue, the IRS will contact you by U.S. mail. This scam email may look like this, according to AARP: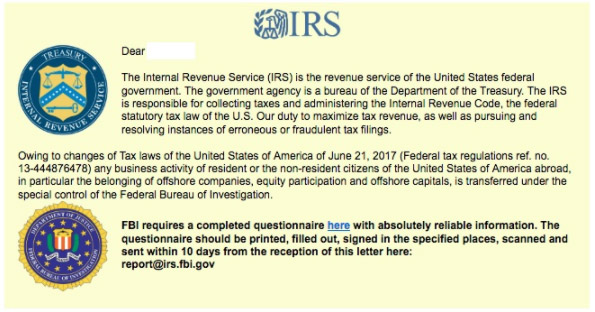 ---
SMART PHONE HACKING
A recent Pew Research Study found that the number of older adults over the age of 65 who own smart phones has increased by 24 percentage points (from 18% to 42%) since 2013. According to experts, phone scams increase in the wake of natural disasters. Be especially aware of callers who claim to be helping victims of the recent hurricanes. Hackers are targeting these smart phones but some simple rules can protect against exploitation:
— Keep the screen of your phone locked and avoid using "open" Wi-Fi networks in public places;
— Update your phone's operating system and security software frequently;
— Only download "apps" from official stores like Google Play or the Amazon app store;
— Do not reply to or click links in text messages from numbers you do not recognize.
With respect to protecting yourself against elder fraud, as Ben Franklin
once said, "An ounce of prevention is worth a pound of cure!"
EverSafe can help you implement the "Trusted Contact" rule!
Our exclusive Trusted Advocate feature makes it easy.
We'll take care of obtaining Trusted Contacts' name(s) and
contact information for you, ensuring they are notified. We can add fraud
monitoring, with alerts to "Trusted Contacts," if requested.
Please email TrustedContact@EverSafe.com
if you are interested or have questions.