EverSafe Newsletter
SENIOR FINANCIAL PROTECTION NEWS
Providing thought-provoking articles, commentary and general information on issues related to aging and financial health.
FinTech for the Aging
BESSEMER HIGHLIGHTS FINTECHS FOCUSED ON SENIORS
Bessemer Venture Partners, a venture capital firm, recently published interesting research on financial technology ("fintech") companies focused on seniors. In addition to charting new companies servicing aging boomers, the study identified and cited four "demographic shifts" they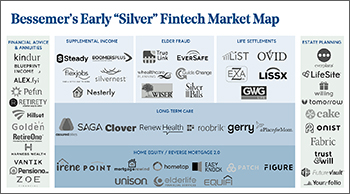 viewed as significant when evaluating opportunities in the aging boomer space: rising healthcare costs; the possibility that with time, Social Security may not be sustainable; the unreliability of pensions as a 'given;' and the fact that aging Americans are still suffering from student loan debt. Bessemer also highlighted four areas they view as potential entrepreneurial fodder: services that can generate supplemental income; taking advantage of seniors' trillion-dollar+ home equity market; new estate-planning tools; and elder fraud prevention services. The piece recognized that many fintech entrepreneurs have focused on "younger, more digital native customers and have largely overlooked older generations… " Bessemer noted that "Just as Credit Karma and NerdWallet helped to educate the online masses on financial basics for millennials, we expect to see a new crop of companies, such as EverSafe and TrueLink Financial continue to address financial concerns for the aging population through education and novel solutions that can predict and prevent financial vulnerabilities and even salvage funds for those who have been victimized." EverSafe appreciates the recognition!
MAINE GOVERNOR SIGNS ORDER FOCUSED ON COMBATING ELDER ABUSE
Maine's governor, Janet Mills, signed an order this month to address elder abuse by creating a collaboration of agencies that will focus on the growing problem. The "Elder Justice Coordinating Partnership" will include officials from government agencies as well as aging and advocacy organizations, and will work together to strategize and discuss potential solutions that involve the public and private sectors—to prevent and respond to elder abuse, according to a press release. The governor expects to receive recommendations regarding "education, public policy, data collection and evaluation and any legislative changes" by the end of next year.
FTC'S REPORT COMPARES FRAUD REPORTS FROM OLDER V. YOUNGER CONSUMERS
New research from the Federal Trade Commission found that older adults, age 60 and older, are less likely to report losing money to fraud than younger victims. The amount of money they report losing, however, is on the rise. Protecting Older Consumers 2018-2019: A Report of the Federal Trade Commission includes an analysis of consumer complaints to the FTC. In 2018, seniors were less likely than younger adults to report fraud incidents. According to the report, "Younger adults reported losing money more often, but older consumers reported much higher dollar losses." The research also suggested that seniors were more likely than younger customers to be victimized in certain types of scams. For instance, they were "…more than three times more likely to report losses to impostor fraud where someone was impersonating a friend or family member. Prize, sweepstakes, and lottery scams showed a more than two-fold difference as well."
Do Adverse Financial Outcomes Precede A Dementia Diagnosis?
NEW RESEARCH FINDS CORRELATION
An individual in the early stages of dementia is likely to lose 'financial capacity' and also encounter "adverse financial outcomes," according to important new research published in Health Economics on October 25th. Carole Roan Gresenz, the interim dean at Georgetown University's School of Nursing & Health Studies, oversaw the study, which analyzed data from Health and Retirement Study (a national survey of seniors and their financial assets and liabilities) and Medicare claims. Although previous research has found a correlation between diminished financial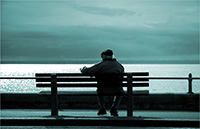 capacity and the onset of dementias like Alzheimer's disease, this research focused on impact and financial outcomes as a result of those challenges, according to Dr. Gresenz. "What we found was that households in which someone is in the early stage of the disease are vulnerable to large reductions in liquid assets such as savings, money market, and checking accounts," she reported. "Since Alzheimer's disease often isn't diagnosed until symptoms are evident, and its progression often involves a multi-year process of cognitive decline," this study underscores the need to initiate ways to monitor finances closely and incorporate these systems in estate planning sessions—in advance of those "adverse outcomes," which can be devastating. Involving trusted caregivers as an "extra set of eyes" in the monitoring process through the use of technology is a way to identify anomalies at the first sign of diminished financial capacity. In addition to alerting that an individual may be vulnerable to fraud and scams, it appears that doing so may precede a diagnosis of Alzheimer's and other disorders involving cognitive challenges.
MORTGAGE FRAUD SCHEMES TARGET SENIOR VICTIMS
Three mortgage company executives were arrested near San Diego earlier this month on a 121-count felony indictment. They were charged with operating a mortgage fraud scheme that targeted a number of senior homeowners who were in financial distress. This conspiracy resulted in losses of more than $7 million.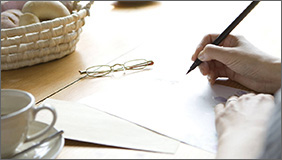 The victims were seeking "mortgage relief" services from a company called Grand View Financial LLC. According to the state Attorney General, defendants from Grand View conspired for years (2015 until 2019) by advertising "foreclosure assistance" to customers and promising that "…if they transferred their house and paid money to Grand View…the company would eliminate the mortgage lien and deed the home back to the homeowner, clear of any liens… During this time, the defendants allegedly filed false court proceedings, false documents with the county recorders' offices, and false bankruptcies." A senior's home is often their most valuable asset. These particular charges involve activity that is alleged to have occurred over a four-year period. Monitoring real estate (in addition to financial accounts and credit bureau data) for events like reverse mortgages, title changes, and new liens on property—is critical in protecting our parents', and our own, financial health. Technology makes it easy.