EverSafe Newsletter
SENIOR FINANCIAL PROTECTION NEWS
Providing thought-provoking articles, commentary and general information on issues related to aging and financial health.
FinTech Tools for Fraud Prevention
EVERSAFE HIGHLIGHTED IN AARP REVIEW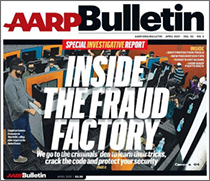 Elder fraud is now a $37 billion dollar crisis in the US. With the increase in the US senior demographic, consumer fraud and identity theft have surged. AARP recently reviewed services that prevent or shut down financial abuse and safeguard seniors from scammers. They looked at services offered by government agencies, nonprofits, large corporations, and entrepreneurs with "unique and often high-tech protection." After reviewing multiple solutions, they consulted with anti-fraud experts and former law enforcement professionals. Bottom line? EverSafe was recommended twice in the piece, first as an identity theft solution and for a second time for our ability to monitor financial account activity. Other tips in the article included using call-blocking software, reviewing a broker's history with FINRA's BrokerCheck tool, taking steps to confirm a potential caregiver's history, and taking a 'financial vulnerability' survey to gage decision-making capacity.
THESE LETTERS ARE NOT A SCAM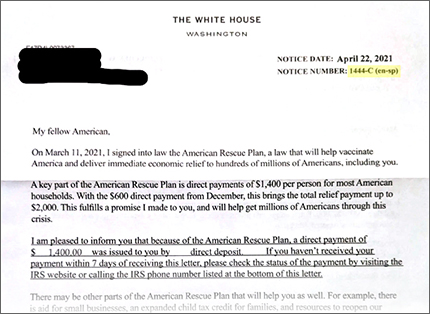 The White House and the Internal Revenue Service have issued a public statement: they want Americans to know that letters sent from the White House bearing Biden's name and signature are not part of a fraud scheme. The correspondence, sent to Americans from the White House, describes the amount of stimulus payments and provides a website to obtain more information. After each of the Economic Impact Payments is issued, the IRS is required to mail a notice to each recipient's last known address and some folks may receive multiple notices about payments. A number of government agencies have been contacted by recipients of the letter, who were concerned that it was illegitimate. The IRS notes that the letter mail should include "Notice 1444-C."
GOVERNMENT / LEGISLATIVE UPDATE
MAY IS OLDER AMERICANS MONTH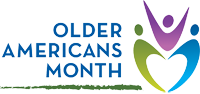 Federal agencies across the country recognize May as Older Americans Month. Made official in 1963 by President Kennedy and the National Council of Senior Citizens, the title acknowledges the contributions of "past and current older persons to our country, in particular those who defended our country." States acknowledge this designation by holding ceremonies, events, and programs focused on seniors.
The Consumer Financial Protection Bureau, for instance, has published a number of tools and resources that are designed to help seniors and their families. The resources are focused on financial caregiving, housing decisions, retirement planning, and online banking tips. These resources can be found here.
Aging and Diminished Capacity
WHAT ADVISORS SHOULD KNOW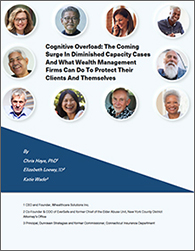 Liz Loewy, EverSafe's COO, Chris Heye, CEO of WhealthCare Planning, and Katharine Wade, Connecticut's former Insurance Commissioner published a white paper entitled "How to Protect Your Client and Firm from the Risks of Diminished Capacity." The piece was published in a number of periodicals, including Investment News, The Street, and others and summarizes current demographic realities, the nature of the risks to broker dealers, advisors and firms, the regulatory environment, and the opportunities for firms seeking to better protect their clients and themselves. The paper gives tips for getting ahead of capacity issues that include: providing mandatory training for staff; offering protected account features allowing clients to set alerts for specified account activities and provide read-only access to authorized third parties; and employing technology to identify changes in behavior like a change in the risk profile.
Celebrating 100
A UNIQUE MARKETING PARTNERSHIP
Lowe's certainly knows how to think outside the box. Last year, to the surprise of many, the home and hardware chain partnered with New York Fashion Week to celebrate the connection between interior design and home improvement. And this year, they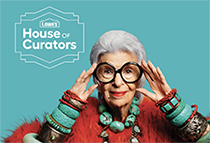 have decided to celebrate their 100th year with another soon to be centenarian: fashion designer and iconic model Iris Apfel. Lowe's new initiative "House of Curators" will celebrate Apfel's bold and colorful sense of style, inspired by her time spent in Palm Beach. Apfel doesn't believe in hiding her light under a bushel by toning things down because of her age. "I've always believed that one of the most important elements of home design is letting yourself shine…For me, that means experimenting with unapologetic colors, eye-catching patterns and being totally original." We love this attitude and hope to see other businesses follow Lowe's lead!