EverSafe Newsletter
SENIOR FINANCIAL PROTECTION NEWS
Providing thought-provoking articles, commentary and general information on issues related to aging and financial health.
May Was Older Americans Month

FINANCIAL HEALTH & AGING HIGHLIGHTED IN NATIONAL CONFERENCES 
Every May, the Administration for Community Living leads the observance of Older Americans Month, recognizing the contributions of older adults across the nation. EverSafe was pleased to participate on two panels at nationally-recognized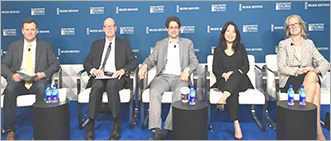 events in the last month, representing seniors and their families at events focused on the use of technology and innovation to enhance financial health.
At the Milken Institute Global Conference in California, EverSafe participated on a panel entitled Enhancing Financial Health for All Generations Through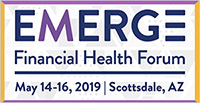 Technology. Two weeks later, we were at the Center for Financial Services Innovation (CFSI) EMERGE 2019 conference, where innovators, aging organizations, and financial services professionals from banks, firms and credit unions converged to share their thoughts and strategies on solutions related to financial wellness and retirement.
Trending: Apps Focused on Seniors 
EVERSAFE FEATURED IN WALL STREET JOURNAL PIECE

A recent full-page piece in the Wall Street Journal focused on financial technology solutions for seniors, known as "fintech." Although apps focused on physical issues of those who wish to age in place have become popular, including senior-friendly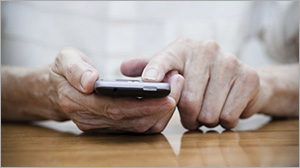 phones, aids that enhance hearing via their mobile device, apps that track whether an individual is taking their medicines and/or eating, and the like—tech services focused on financial health have taken longer to catch on. "The rise of these services comes as financial companies look to technology to cater to the changing needs of an aging population," according to Yuka Hayashi, the author of the piece. The article includes the true story of a woman named Andrea, whose older father was the victim of identity theft at the hand of a trusted caregiver. After learning that there was a lien on her parents' estate due to a credit-card debt, she enrolled in EverSafe and learned that, unknown to her parents, 13 credit card accounts had been opened using her parents' names and social-security numbers—by that "caregiver." The article describes other new fintechs that are focused on seniors and their loved ones, including EverPlans, Golden, Wealth Care Planning, and TrueLinkFinancial.
REGULATORS JOIN TOGETHER TO SUPPORT THE SENIOR SAFE ACT
The Senior Safe Act was signed into law one year ago—in May of 2018. The Act addresses some of the challenges encountered by financial institutions in identifying and reporting cases of suspected elder financial exploitation. Specifically, the Act protects "covered financial institutions" from liability in civil or administrative proceedings for reporting suspected exploitation of a senior to an agency. This kind of immunity can be helpful when a financial services professional is inclined to report such a case but is concerned that the report may violate the client's privacy. The Act's immunity provisions only apply if employees have received training on how to identify and report suspected cases of elder fraud. In addition, reports of exploitation must be made "in good faith" and "with reasonable care," per the statute. In recognition of the one year anniversary of the enactment of The Senior Safe Act, the Securities and Exchange Commission (SEC), the North American Securities Administrators Association (NASAA), and the Financial Industry Regulatory Authority (FINRA) have issued a helpful fact sheet to help raise awareness among broker-dealers and investment advisers about how the Act's immunity provisions work and encourage the reporting of suspected elder fraud. The regulators' fact sheet can be accessed here.
ARIZONA ADOPTS NEW LEGISLATION FOCUSED ON SUSPECTED ELDER FRAUD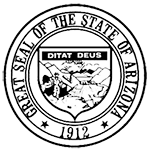 On May 13, Arizona joined a growing number of states that have adopted 'report and hold' statutes intended to prevent elder financial exploitation. Arizona amended its Adult Protective Services (APS) statute to add these provisions. Although certain financial services professionals were previously required to report cases of suspected exploitation of a vulnerable adult, the amendments now provide broader protection, addressing potential victims who are 65 and older, as well.
Dementia Risk Increases with BMI Change 
RESEARCH FOCUSED ON WEIGHT GAIN OR LOSS IN LATER LIFE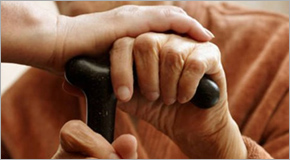 A recent study from Korea found that seniors who experience significant weight gain or loss may increase their risk of developing dementia. 67,219 participants between the ages of 60 and 80 underwent BMI measurements during intervals between 2002 and 2005, with socioeconomic status and cardiometabolic risk factors also taken into account. After two years, the incidence of dementia was monitored for an average 5.3 years from 2008 to 2013. Cardiometabolic risk factors, including hypertension, congestive heart failure, diabetes and blood sugar, were found to increase the risk of dementia. Not surprisingly, "unhealthy lifestyle habits such as smoking, frequent drinking and less physical activity in late life" were also contributory factors. Results of the study also showed that there appeared to be a significant association between late-life BMI changes (whether increases or decreases) and dementia in both sexes.
PHONY SOCIAL SECURITY CALLS RAMPANT 
A new scam is now more prevalent than the phony IRS scheme. Federal authorities indicate that fraudulent calls from cons claiming to be from the Social Security Administration have peaked during the past year, overtaking the fake I.R.S. calls. The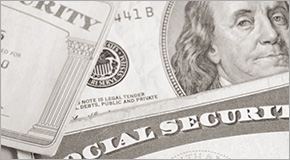 scam works very much the same way: a fraudster calls the victim and informs him/her that their Social Security number has been "suspended" due to suspicious activity, or compromised because of possible involvement in criminal activity. Often, phishing is involved and the scammer asks the senior to "confirm" their number or other personal information. Ultimately, the senior is advised that a payment must be forwarded in order to re-activate the number, or that their financial accounts may be frozen if they don't act quickly. Prevention is relatively simple: warn family members and clients that government officials do not make calls to report issues with an individual's Social Security number. Even if the call is coming from an 800 number or appears to be a legitimate organization, spoofing on these spam calls is common—consumers should call government offices directly by locating the official numbers, either online or through a telephone directory. The true number for the Social Security Administration is 1-800-772-1213. Scams can be reported to the Inspector General by calling the hotline number or going online.
World Elder Abuse Awareness Day 2019 
COMPLIMENTARY JUNE EVENT AT SEC WILL FOCUS ON SOLUTIONS 
World Elder Abuse Awareness Day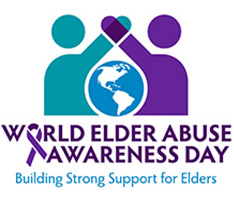 (WEAAD) is commemorated around the world on June 15th every year. The purpose of WEAAD is to raise awareness of the countless older adults who are subject to physical abuse, neglect, and financial exploitation. As many as 1 in 10 older Americans are abused or neglected each year and only 1 in 44 cases of elder financial exploitation is reported. On WEAAD this year, the National Adult Protective Services Association (NAPSA) and the National Center of Victims of Crime (NCVC) will present a number of presentations focused on solutions. Panels include a presentation from the Consumer Financial Protection Bureau (CFPB) on Suspicious Activity Reports (SARs) (reports filed by financial institutions in the US when fraud is suspected), reports from firms across the US on how they are addressing elder financial abuse, and another panel of technology CEOs, including EverSafe's Howard Tischler, who will describe how their innovative products can help preserve seniors' physical and financial health.