EverSafe Newsletter
SENIOR FINANCIAL PROTECTION NEWS
Providing thought-provoking articles, commentary and general information on issues related to aging and financial health.
Progress in Detecting & Treating Alzheimer's
NEW DRUG AND BLOOD TEST
Earlier this month, the U.S. Food and Drug Administration approved a drug for Alzheimer's type dementia called aducanumab, also known as Aduhelm. The acceptance of this medication was somewhat controversial. The FDA used the accelerated approval pathway,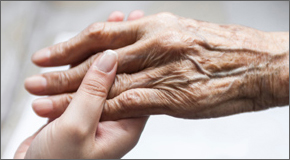 which is one that is often used for innovative drugs that address critical illnesses and appear to provide a significant advantage over existing medications. Many scientists believe that Aduhelm represents a first-of-its-kind treatment for Alzheimer's. It is the first drug approved for Alzheimer's since 2003 and the first therapy that appears to show promise in targeting the underlying pathophysiology of the disease – as opposed to former medications that addressed its symptoms. The FDA is requiring Biogen to conduct a new randomized, controlled clinical trial to confirm the drug's clinical benefit. In the event the trial fails to verify the benefit, the FDA could withdraw its approval.
In Hong Kong, researchers have developed a new blood test to identify Alzheimer's disease. A team at Hong Kong University of Science and Technology, led by a well-known neuroscientist Nancy Ip, believe that early detection will enable closer monitoring to slow a patient's rate of deterioration. The new test is an "ultra-sensitive method" that will identify specific plasma proteins associated with the disease. According to Ip, "With the advancement of ultra-sensitive blood-based protein detection technology, we have developed a simple, non-invasive and accurate diagnostic solution for AD, which will greatly facilitate population-scale screening and staging of the disease."
GOVERNMENT / LEGISLATIVE UPDATE
REGULATORS CONTINUE TO FOCUS ON VULNERABLE INVESTORS
The U.S. Securities and Exchange Commission (SEC), the North American Securities Administrators Association (NASAA) and the Financial Industry Regulatory Authority (FINRA) have collaborated to offer a free industry program that encourage advisors to learn how to identify and report financial exploitation of older and vulnerable clients. The associations are offering the educational materials free of charge to help financial services professionals further partner with regulators to protect aging investors who may be at risk of abuse. In addition, the training will assist firms in meeting the requirements of the Senior Safe Act and certain state training mandates. You can find out more about this program by visiting FINRA's website.
Retirement in the Wake of Covid 19
WORPLACE EXIT HAS CREATED DISPARITIES
The pandemic caused the US unemployment rate to balloon as millions of employed adults were forced to leave the workforce. The New School in New York City recently released a study that shed light on the demographics of those who retired during this time, whether their departure from the labor force was 'forced' by the virus, and to what extent they are prepared financially for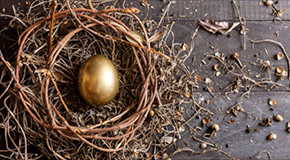 the years ahead. The research found that older black workers without a college degree were more likely to be forced to leave work prematurely. "Many low-paid workers without much retirement savings found themselves forced out of their jobs with little prospect of finding employment again. Retiring before the full retirement age will result in a cut in their Social Security benefits, by as much as 30%." Unsurprisingly, employees with higher incomes experienced a different reality during the COVID crisis. According to Fidelity Investments, "the average balance in IRA accounts at the firm rose from $115,400 in the fourth quarter of 2019 to $128,100 in the fourth quarter of 2020, an increase of 11%," and "the number of Fidelity IRA accounts that received a contribution increased by 35%, suggesting that many people who kept their jobs (about eight million jobs lost last year still haven't returned) decided to step up their retirement savings during the pandemic."
SENIORS LOST $ 1 BILLION IN 2020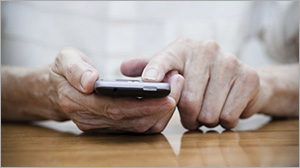 Older Americans lost nearly $1 billion in scams in the year 2020 – an increase of $300 million from 2019, according to a new report from the FBI's Internet Crime Complaint Center. According to the research, older people were exploited more than any other age group, with just over 23,000 victims. California, Texas and Florida were the states with the highest number of fraud cases. Romance scams, tech support abuse and lottery schemes were referenced as three of the most prevalent types of fraud. More specifically, financial abuse crimes by number of victims included: extortion (23,100 victims), non-payment / non-delivery (14,534), tech support (9,429), identity theft (7,581) and phishing / vishing / smishing / pharming (7,353).
WSJ Piece on Cognitive Decline
EVERSAFE CITED AS A USEFUL TOOL
Last month, we reported on a white paper on diminished capacity, authored by Liz Loewy, COO of EverSafe, Chris Heye, of Whealthcare Planning, and Katharine Wade, Connecticut's former Insurance Commissioner. Entitled "How to Protect Your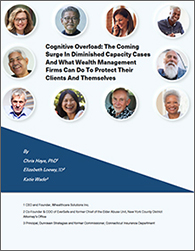 Client and Firm from the Risks of Diminished Capacity," the piece was published in a number of periodicals, including Investment News and The Street. This month, the Wall Street Journal published an important piece on the same subject. In "Baby Boomers' Biggest Financial Risk: Cognitive Decline," Randall Smith outlines the reasons why advisors and investors of all ages should take steps to get ahead of what is arguably the greatest risk for baby boomers – especially those who manage their own money. With respect to diminished capacity, Smith argues "One big mistake – or a series of smaller ones – can go unnoticed by loved ones, and potentially ravage a lifetime of hard-earned savings." The piece points out that in the next decade, nearly half of older boomers face the likelihood of "some cognitive impairment," and that there are things adults can do now to prepare for issues. The piece then mentions EverSafe as the "app that can detect possible cognitive issues and alert designated individuals."