EverSafe Newsletter
SENIOR FINANCIAL PROTECTION NEWS
Providing thought-provoking articles, commentary and general information on issues related to aging and financial health.
Financial Advisor Magazine Highlights EverSafe
FINTECH CITED AS A TOOL TO COMBAT ELDER FRAUD
Financial technology, known as "fintech," is technology innovation that offers an alternative to traditional methods in the delivery of financial services. And financial institutions are beginning to embrace fintech solutions in their quest to prevent and identify signs of exploitation, especially with respect to vulnerable adults. A Financial Advisor Magazine article this month explores the benefits of using technology to enhance fraud protections for consumers as well as detecting issues related to cognitive capacity. In the article, EverSafe's CEO Howard Tischler, and COO Liz Loewy, outline the critical importance of financial technology in preventing fraud and abuse. "[To] identify financial exploitation, advisors and banks need to be able to spot patterns in withdrawals and anomalies in financial accounts, things often invisible to people," Loewy said. The importance of monitoring financial accounts was also underscored. "People need this information before disaster strikes," Tischler emphasized.
Raymond James Announces New Retirement Tools
EVERSAFE ADDED AS LONGEVITY PLANNING RESOURCE
The wealth management firm Raymond James has announced the addition of a suite of new longevity planning resources to its 7,500
financial advisors nationally. According to the announcement, the offerings were selected based upon insights and feedback from a group of 40 advisors at the firm. The tools include new and existing applications as well as business relationships developed to support advisors as they assist clients with financial planning healthcare, end-of-life wishes, and fraud and identity theft protection (EverSafe). Raymond James is already receiving positive feedback about the longevity planning resources, which advisors are calling "invaluable" in helping them meet the needs of clients in a more holistic way.
PHONY LOAN MATCHING WEBSITES 
For consumers who have been denied a bank loan because of a low credit score, websites that market lending opportunities with purportedly high approval rates can look like an appealing alternative. However, many of these websites collect personal information from consumers and then sell it to predatory lenders or others on the Black market. Don't be fooled, follow these tips to avoid being scammed:
Don't rely on a single online loan matcher to do research for you;

Before sharing any personal information, carefully research lenders by looking online for their ratings from other consumers as well as their rating on the Better Business Bureau website;
Contact the Federal Trade Commission to report any suspicious activity.
Legislative Updates 
SENIOR SAFE ACT MOVES FORWARD IN CONGRESS 
On Monday, January 29th, H.R. 3758, the Senior Safe Act, passed the House of Representatives. This bill, which will now head to the Senate, is sponsored by Representative Krysten Sinema (D-Arizona) and Representative Bruce Poliquin (R-Maine). The bill:
Encourages individuals and financial institutions to report suspected instances of elder fraud;
Incentivizes firms to train employees to find and stop financial exploitation;
Enables financial services providers (banks, credit unions, investment advisors, etc.) to better communicate with law enforcement agencies when they suspect fraudulent activity;
Grants immunity to those who report suspected abuse to regulators and law enforcement.
ELDER JUSTICE COALITION RESPONDS TO BUDGET 
In response to the Bipartisan Budget Act of 2018, H.R. 1892, which has been signed into law, the Elder Justice Coalition has called on Congress to use a portion of the $63 billion increase in non-defense discretionary spending to combat mounting financial exploitation and elder abuse in the United States. House and Senate appropriators are working on the details of this omnibus appropriations bill now and have an opportunity to include funding for the programs authorized in the Elder Justice Act more than seven years ago.
Conference at Goodwin Procter 
EVERSAFE PRESENTS AT ELDER FRAUD PROTECTION SEMINAR
FOR LEGAL AND FINANCIAL SERVICES PROFESSIONALS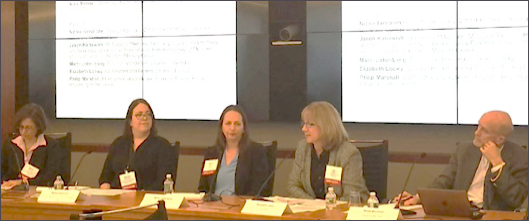 Earlier this month, EverSafe presented on a panel at an event at Goodwin Procter which was co-hosted by the Securities Industry and Financial Markets Association (SIFMA) in Boston. The symposium focused on ways in which industries can work together to identify and prevent fraud across an aging demographic. Legal and compliance professionals attending the seminar heard from regulators, aging and medical professionals, government officials, and financial services about emerging issues relating to older clients, including signs of diminished cognitive capacity.
EVERSAFE WILL ALSO BE PRESENTING AT THESE UPCOMING EVENTS:
Please call 1-888-575-3837 for more details!
FEBRUARY 5th IS HERE!
EverSafe can help you implement the "Trusted Contact" rule. Are you a Broker-Dealer or a registered representative of a brokerage firm? 
As of February 5th, FINRA (the Financial Industry Regulatory Authority) Rules 4512 and 2165 require broker dealers, upon the opening of an account and routine and customary updating process, to take reasonable steps to obtain the name of a "Trusted Contact" who may be contacted regarding suspicious activity related to the client's account(s).
EverSafe's exclusive Trusted Advocate feature makes it easy. We have Trusted Contact forms we can share, and assist in reaching Trusted Contacts to ensure they are notified. We can add fraud monitoring, with alerts to Trusted Contacts, if requested.  
 
Please email TrustedContact@EverSafe.com
or call 1-888-575-3837 if you are interested or have questions.