EverSafe Newsletter
SENIOR FINANCIAL PROTECTION NEWS
Providing thought-provoking articles, commentary and general information on issues related to aging and financial health.
GOVERNMENT / LEGISLATIVE UPDATE
FTC ANNOUNCES ADVISORY GROUPS FOCUSED ON SENIOR SCAMS
JUSTICE DEPARTMENT EXPANDS EFFORTS TO FIGHT ELDER FRAUD
Representatives from federal and state government, aging organizations, and private industry were convened by the Federal Trade Commission on Sept. 29th for the first meeting of the newly formed Scams Against Older Adults Advisory Group. The Group's agenda includes: "expanding FTC Sealconsumer education efforts; improving industry training on scam prevention; identifying innovative or high-tech methods to detect and stop scams and developing research on consumer or employee engagement to reduce fraud." In late November, the FTC announced the agencies, organizations, and businesses that will be

represented on the advisory group's committees. EverSafe is pleased to share that we have been selected to serve on one of these committees. The Department of Justice (DOJ) has expanded its efforts to combat elder fraud schemes that are based overseas, Attorney General Merrick B. Garland recently announced. Officials are adding 14 U.S. attorneys' offices to a strike force that includes DOJ offices in California, Florida, New York, Texas, Arizona, Georgia, and Maryland. Many kinds of fraud are designed to prey on older adults, including grandparent scams in which criminals pretend to be relatives in need of cash, romance scams, insurance fraud, identity theft in which crooks pretend to be government officials, and schemes that deceive people into thinking they have won lotteries and sweepstakes. In the year ending in September, the DOJ's Transnational Elder Fraud Strike Force pursued some 260 cases involving more than 600 defendants, working with foreign law enforcement to target criminals who may be based thousands of miles from the United States. "We are intensifying our efforts nationwide to protect older adults…" Garland said in a statement, adding that the expansion "builds on the Justice Department's existing work to hold accountable those who steal funds from older adults, including by returning those funds to the victims where possible."
BEWARE OF COMMON HOLIDAY SCAMS
It is now common knowledge that scammers often focus on older consumers during the season. Why? Seniors have had a lifetime to accumulate wealth, they're more likely to own their own homes, and many older adults are simply less familiar with how to stay safe while online.
Popular scams include online shopping schemes in which phony offers or coupons are designed to compel users into clicking a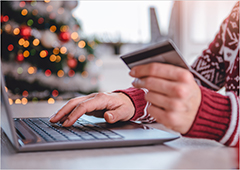 link that installs malware on their computer or asks for personal or financial information; gift card fraud in which cards sold in stores have been tampered with and compromised by scammers so that they can drain cash on cards that consumers have legitimately purchased for themselves or as gifts; phony charities that exploit older consumers' goodwill and generosity via fake websites or telemarketing calls, and more. AARP outlines popular scams targeting older adults every year – you can find their list of other fraud schemes focused on seniors here.
Another scam that families should be aware of involves the Geek Squad, Best Buy's tech support service. Schemes like this one often involve a communication – purportedly from a legitimate company or service. The trouble begins when the consumer responds to it. Law enforcement has received increasing reports that scammers – impersonating the Geek Squad – are sending fake emails that trick people into revealing their personal data.
Here's what happens, according to the Federal Trade Commission: The fake Geek Squad sends a text or email informing consumers they are about to be charged hundreds of dollars for a transaction that never happened – unless they call to cancel. When the surprised consumer tries to cancel, the scammer requests financial information, such as their bank data. The scammer may also request remote access to the caller's computer, which they can use to install spyware that captures valuable information.
One phony email reviewed by Scam Watch came with the subject line: "Invoice money debited today" and a signature from "Geek Squad Billing Support." A fake charge of $433.48 was listed for a subscription to "Geek Squad Security," with a phone number for the recipient to call to cancel. In a related Geek Squad scam, crooks pretend to send a refund that is too large, then ask their victims to pay the difference with a gift card.
Imposter scams are a common fraud in which criminals lull their victims by pretending to be a legitimate company, often one that the consumer has done business with. "Scammers send alarming messages like this to rattle you," the FTC reports. "Don't let them. If you think the message is legitimate, contact the company in question using a phone number you know is real. Do not use the number included in the message."
Stay safe, and take steps to keep loved ones safe, over the holidays. Make sure you help them keep an eye on their accounts. Financial scams can turn the holiday season into a nightmare.
Aging and Memory Loss
STUDY IDENTIFIES READING AS A SIGNIFICANT BENEFIT
Researchers from the University of Illinois Urbana-Champaign conducted an interesting analysis, the results of which were recently published in Frontiers in Psychology. Participants in the study were recruited from the community, including assisted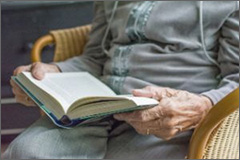 living residences and a local memory clinic. One group was given an ipad preloaded with puzzles – the other received an ipad containing books. Both groups were directed to read or work on the puzzles for a comparable period of time, five days a week. The results were irrefutable: in comparison to the puzzle group, the group that read books for eight weeks showed significant improvements in working memory and episodic memory. Simply put, the study demonstrated that regular, engaged reading strengthened older adults' memory skills. The sample included older adults with poor cognitive status – and while these individuals were more likely to prematurely withdraw from the study, those who stayed showed the same benefits, suggesting that "leisure reading may support memory skills even among adults who are already starting to experience significant declines." According to the researchers, education early in the life is "among the most powerful contributors to cognition throughout the lifespan."
Identity Thief Identified at Disney World
FEDERAL AGENT LOCATES FUGITIVE WHILE ON VACATION
When Jeff Andre sought a breather from his job as a U.S. postal inspector in New York, he headed more than a thousand miles south to Disney World's Animal Kingdom. But he didn't get the Florida vacation he had planned on.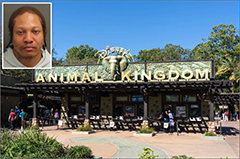 One day in October, inside what Disney calls "the most magical place on earth," the federal agent spotted a tourist with a distinctive tattoo on his neck. Incredibly, Andre found himself staring at a fugitive he had investigated for fraud. Quashon Burton, 31, was accused of stealing nearly $150,000 in COVID-19 emergency loan funds through a scam in which he used Social Security numbers and other identification of at least four people. Burton was now on the lam from charges that included conspiracy to steal government funds, theft, and identity theft.
Federal officers had shown up at his Brooklyn home to arrest him on multiple occasions over the past year. But he was never there. Now, the fugitive was relaxing inside Magic Kingdom, unaware that the long arm of the law was about to grab him. Burton's neck tattoo – an unusual, cursive "H" – was the giveaway.
Andre, who had signed a criminal complaint naming Burton in November 2021, contacted Disney World security who then called the local Orange County sheriff's office. Deputies confronted Burton at a bus stop where he was leaving the park with two family members. The suspect initially gave them a false name and refused to admit his identity, even after fingerprints confirmed it. Cops ultimately had to force Burton to the ground to take him into custody.
A Florida judge initially said Burton could be released with an electronic monitor. But prosecutors in the Southern District of New York persuaded a different judge that Burton "was an extreme flight risk" and should remain in custody as his case unfolds. He is now being held without bail, awaiting trial where he could be sentenced to at least two years in prison.