EverSafe Newsletter
SENIOR FINANCIAL PROTECTION NEWS
Providing thought-provoking articles, commentary and general information on issues related to aging and financial health.
Challenges in Assisted Living
STAFFING SHORTAGES TIED TO DANGEROUS CONDITIONS
With nearly 29,000 assisted living communities in the United States, choosing the right one often presents a difficult process for seniors and their loved ones. Factors like location, size, and services can help narrow down the search. Further challenges may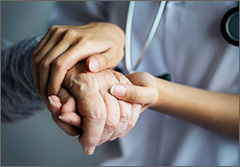 arise once the decision is made. Senior residents are reporting dangerous disparities between the care they are promised and the care they receive when they move. A class action lawsuit against the management of 16 California assisted living facilities alleged that after paying a hefty membership fee and completing a pre-admission assessment questionnaire, seniors were placed in residences that were not staffed appropriately to meet many of the needs reflected in the assessment. A similar class action was filed against an Illinois health care provider, where a shortage of nurses, dietary staff, and therapists led to instances of neglect, injury, and dangerous health conditions. Inadequate staffing is alleged in a significant number of nursing home neglect cases. To ensure that current and future care needs will be met, the Better Business Bureau suggests that older adults start the search process as early as age 60, consult medical professions and a local long-term care ombudsman about the reputation of the facility being considered, and carefully review contracts for limitations on the right to file a lawsuit. See more of their tips here.
Retirement in the US
ARE AMERICANS RETIRING AT A LATER AGE?
The 'right' retirement age has become a contentious subject here in the US and elsewhere in the world. In France, there were protests earlier this month when Emmanuel Macron announced that the pension age would be raised from 62 to 64. In the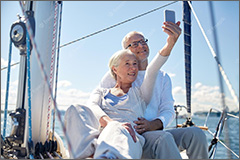 United States, a number of politicians have discussed pushing the full retirement age (the age at which you can claim your standard Social Security benefit or your primary insurance) from 67 to 70. Many policymakers believe that to ensure future benefits, the early eligibility age should be increased. A few interesting retirement statistics were offered by a piece in Motley Fool this month:
The average retirement age for Americans is 61.
The average retirement age has increased by a few years since the early 1990s, when the average age for retirement was 57.
Out of 42 countries with retirement length data, the US ranks 28th for men and 37th for women.
Americans expect to retire later than they actually do, with the usual difference being five or six years, according to a Gallup poll.
GOVERNMENT UPDATE / LEGISLATIVE UPDATE
OLDER VICTIMS ARE THE FOCUS OF PROPOSED LEGISLATION
The US Senate Finance Committee has introduced legislation to protect older adults and people with disabilities from abuse, isolation, and neglect. The Elder Justice Reauthorization and Modernization Act of 2023 reauthorizes the Elder Justice Act and dedicates new funding to programs proven to safeguard seniors. This legislation builds on the first-ever authorization of
mandatory funding for Adult Protective Services (APS) in December 2020. As part of this Act's reauthorization, the proposed legislation would create three new programs: addressing medical-legal needs, responding to social isolation, and strengthening the long-term care workforce.
An interesting bill has cleared the Senate Banking Committee in California. Senate Bill 278 may give victims an avenue for holding banks accountable when "they should have known of the fraud but negligently assisted in the transfer anyway." Advocates believe that this clarification would be a tool for victims of elder financial abuse in meeting their legal burden of proof in litigation involving financial institutions.
JUICE HACKING
A scam called "juice jacking" is one of the newer ways fraudsters are stealing and tracking personal data from mobile devices. Here's how it works:  a consumer's cellphone or laptop battery is running low and they are about to get on a plane and want their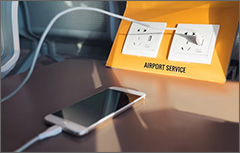 device to be fully charged. They see a free USB port-charging station in the airport and decide to "juice up" their battery at the station. The problem is that cyber-fraudsters can load malware onto the station to access the consumer's electronic device while it's in the process of being charged. Fraudsters can then use that information and access personal data and even financial account information to sell to other malicious actors. These charging portals also exist at places like shopping malls and hotels. If your battery is low, according to the FTC, the convenience of these stations may bring unfortunate consequences. Criminals can actually "lock a device or export personal data and passwords directly to the perpetrator." Here are their tips to avoid becoming a juice jack victim:
Avoid using a public USB charging station. Use an AC power outlet instead.
Bring AC, car chargers, and your own USB cables with you when traveling.
Carry a portable charger or external battery.
Consider carrying a charging-only cable, which prevents data from sending or receiving while charging, from a trusted supplier.
If you plug your device into a USB port and a prompt appears asking you to select "share data" or "charge only," always select "charge only."
Secrets of Centenarians
TWO SISTERS SHARE THEIR TIPS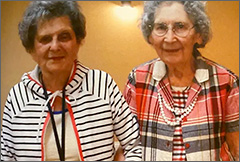 Ruth Sweedler, 103, lives in a retirement home in Connecticut. Her sister, Shirley Hodes, lives in independent living about 800 miles away in North Carolina. "I'm not that old!" says Hodes, who is 106 and loves reading. The sisters shared their four tips on how to stay sharp as you age in a recent piece by CNBC. Their advice: Work for as long as possible; connect with friends, loved ones, and family; learn – while keeping an open mind, and of course: appreciate what you have.