EverSafe Newsletter
SENIOR FINANCIAL PROTECTION NEWS
Providing thought-provoking articles, commentary and general information on issues related to aging and financial health.
Hospitalizations of US Seniors Drop
GOOD NEWS ATTRIBUTED TO VACCINES
There is light at the end of the tunnel. COVID hospitalizations of seniors in the US have dropped 80 percent in 2021, a result of mass vaccination campaigns across the country. Hospitalizations are down 60 percent overall. The drop in severe cases among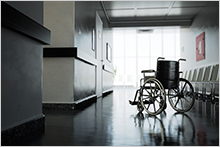 people 65 and older is especially promising since most of the deaths during the pandemic disproportionately affected seniors. According to government statistics, current COVID-19 deaths in the US approximate "700 per day on average, compared with a peak of over 3,400 in mid-January." These new statistics are a good argument for getting vaccinated. Two-thirds of senior citizens are fully vaccinated, and over 80 percent have received one shot, according to the CDC. Unfortunately, COVID numbers in the U.S. have increased in many states, matching numbers from last year. The new cases are affecting younger adults, many of whom have yet to be vaccinated. "With enough people vaccinated, COVID-19 cases should eventually begin to fall as the virus finds fewer and fewer people to infect" according to experts. Israel is said to be close to herd immunity as half of its population has been inoculated.
IRS ANNOUNCES THIRD STIMULUS PAYMENTS: SPECIAL ASSISTANCE FOR SENIORS
The IRS is now distributing Third Economic Impact Payments, pursuant to the American Rescue Plan Act of 2021, which was signed last month. Stimulus checks for those who qualify will have a maximum payment of $1400. As with prior stimulus

payments, these funds will help individuals and families that were hurt financially as a result of the pandemic. The Plan includes monetary support that will assist some of the most vulnerable Americans, including parents and seniors. This includes older adults who are listed as dependents on a family member's tax returns – though their share of stimulus money will be added to the household's total amount. Americans who are 65 years of age or older, receive Social Security, or are veterans may receive a check. There are exceptions for those with "high" incomes from investments or other sources. You can learn more about rules relating to stimulus checks for older adults and get access to an IRS tracking tool here.
PHONY VACCINATION CARDS FOR SALE
As we all know too well, scammers take advantage of crises to develop new fraud schemes. They understand that there is a market for individuals wishing to bypass shots in an effort to gain entrance to schools, mass transit, and other places requiring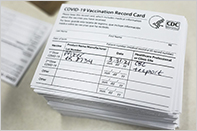 proof of vaccination. One of the newer scams involves the sale of blank or phony COVID vaccination cards online – usually through social media sites. The FBI has launched a probe into the discovery of these fake cards, which are only supposed to be administered by legitimate healthcare providers. And because there is no way to authenticate these cards, fraudsters are now in the business of creating or forging their own. Recently, 45 states Attorneys General published a joint letter to the CEOs of Twitter, eBay, and other social media platforms, warning that their sites have been used to "sell blank or fraudulently completed COVID-19 vaccine cards, complete with the CDC logo…The false and deceptive marketing and sales of fake COVID vaccine cards threatens the health of our communities, slows progress in getting our residents protected from the virus, and are a violation of the laws…" Experts are considering the addition of a digital verification or QR code to the vaccination card. This would help to confirm the authenticity of the card and prevent this kind of scam.
Alzheimer's and State of Mind
STUDY FINDS POTENTIAL LINK
A recent study found a possible correlation between an individual's state of mind and the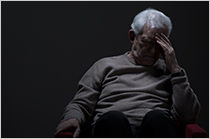 possibility of developing certain dementias, including Alzheimer's disease. Feelings of loneliness during middle age (between ages 45 – 64), and countering these feelings, appear to affect the level of risk. According to the research, published in the journal Alzheimer's & Dementia, the risk rose 91% in those who reported feelings of loneliness that persisted across two separate exams taken a few years apart in mid-life. Interestingly, if people felt lonely in the first exam but not during their next check-up, their dementia risk decreased by 66%. According to Dr. Wendy Qiu, a professor at Boston University School of Medicine who ran the study, it is possible that "people who can recover from loneliness are more psychologically resilient and better able to respond to age-related brain changes."
RIP Hester Ford
AMERICA'S OLDEST LIVING PERSON PASSES AWAY
Hester Ford, the oldest living American, passed away at her home in Charlotte, N.C., on April 17. Ford was at least 115 years old, though some records say she may have been 116. Ford lived through sharecropping, the 1918 flu pandemic, the Great Depression,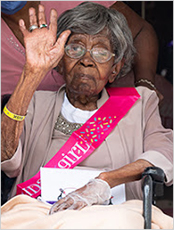 World War I and II, September 11th, Jim Crow laws, the civil rights movement, and the coronavirus pandemic. She was alive during the terms of 21 presidents. Hester got married at 14 to John Ford, and they purchased a farm and started raising a family in Lancaster, S.C. According to NPR, "her family relocated from Lancaster to Charlotte after a family member was brutally killed in the 1950s and her great-grandparents worried what might happen next if they stayed. She notes that lynchings were prevalent." Mrs. Ford had 12 children, four of whom are still alive, 68 grandchildren, 125 great-grandchildren and at least 120 great-great-grandchildren.
The Gerontology Research Group references that the oldest living person in the world is now Kane Tanaka, 118, of Japan. The next oldest is Thelma Sutcliffe, who is 114 years  of age and lives here in the US in Nebraska.