EverSafe Newsletter
SENIOR FINANCIAL PROTECTION NEWS
Providing thought-provoking articles, commentary and general information on issues related to aging and financial health.
Older Adults, Technology & COVID-19
SOLUTIONS FOR SENIORS & CAREGIVERS
The COVID-19 pandemic has thrown Americans into a new normal, in which people are 'sheltering in place' across the country. This forced and unnatural change in routine has caused social isolation which, arguably, is hardest on our elders. A recent New York Times piece recognized this, stating "Now, older people have been sternly warned to adopt the very practices that…can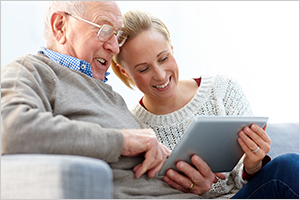 endanger their health." The article touches upon a few helpful tech solutions for older loved ones who may be dealing with isolation. In reality, there are numerous under-utilized tech tools that can improve the lives of seniors and caregivers as they live under separate roofs from their loved ones.
One way that technology can help older adults1 is through telehealth, which can play a critical role in protecting the health of older people in their owns homes and in residential facilities. Connecting seniors with medical providers—from their residence—can be a lifesaver, especially when facing dangers related to the Corona virus. Companies like Teladoc and AmWell are examples that offer screening and video visits. Not surprisingly, AmWell reports that their traffic has increased significantly since the outbreak of COVID.
Curavi is a telemedicine solution that was designed for nursing home use, and they offer video evaluations to reduce unnecessary, and now potentially dangerous, hospitalizations.
There are a number of other home monitoring systems designed to keep an eye on older adults, including a west coast system called GrandCare. According to their information, services include sensors that can be placed in the residence, with the ability to track important data for loved ones and caregivers—including data about movement patterns (bed and chair sensors), medication usage (system reminders when it's time to take pills), and more.
GrandPad is an example of a tablet designed with seniors in mind. The device helps users who may not be particularly tech-savvy communicate with loved ones and caregivers through calls, video, and text messaging.
OneClick.Chat is a tool that can mitigate social isolation by connecting older adults with younger family members and friends. Less complicated than other popular meeting apps, OneClick supports up to 12 members joining a video conversation with one click.
Finally, tech solutions that protect seniors' financial health should not be overlooked. Financial abuse in later life is directly related to mortality. Fintech tools are especially important now, as virus-related fraud has escalated over 600% in recent weeks, according to American Banker.
True Link Financial, a prepaid debit card for seniors and/or other vulnerable individuals, can block certain vendors and purchases. SilverBills, an auto-bill management system, can help older adults who are living on their own pay bills accurately and on time. And EverSafe is a fraud-monitoring tool that analyzes financial accounts, credit cards, credit and real estate, serving as an extra set of eyes on parents' financial health and well-being. Alerts for erratic activity are sent to members and designated others (e.g. adult child, POA)—across the miles.
These are just a few examples of the myriad tech solutions available that will keep families safer, physically and financially, as they shelter in place. Older adults and their caregivers can benefit from technology tools, and their importance during times like these cannot be overstated.
1 The following companies, other than EverSafe, are cited as examples and should not be viewed as endorsements. EverSafe makes no claims, promises, or guarantees about the accuracy, completeness, or adequacy of the contents of their websites and no warranties of any kind are implied or expressed.
Regulatory Update
FEDERAL INITIATIVES ARE FOCUSED ON CORONA & CONS
In the wake of the pandemic, a number of federal agencies are now focused on initiatives that will target and shut down fraudsters. The FCC has published a consumer alert announcing the establishment of a webpage devoted solely to COVID-19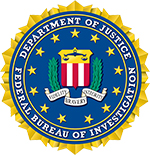 fraud schemes. This website will be updated "as new scams surface" and includes audio of scam call examples—great for use in educating family members and clients. The DOJ has also established a COVID-19 fraud website. In addition to developing these resources, the DOJ and the FCC have enacted regulations that will impede the activities of scammers, according to a piece in JD Supra Legal News. For instance,  in an effort to "ensure that important calls can be made to consumers about the pandemic, the FCC's Consumer and Governmental Affairs Bureau (Bureau) issued a Declaratory Ruling confirming that the COVID-19 pandemic constitutes an 'emergency' under the Telephone Consumer Protection Act (TCPA)." Regarding the content of the call, the FCC said that the call "must be solely informational, made necessary because of the COVID-19 outbreak, and directly related to the imminent health or safety risk arising out of the COVID-19 outbreak."
On April 1ST, the Consumer Financial Protection Bureau (CFPB) issued guidance to help data services and credit reporting agencies (CRAs) comply with the Fair Credit Reporting Act (FCRA) in response to the passing of the Coronavirus Aid, Relief, and Economic Security Act (CARES Act) in an effort to mitigate the economic impact of the Coronavirus (COVID-19) pandemic.
In March and April notices, FinCEN offered detailed guidance to financial institutions, highlighting specific financial crimes risks that have emerged out of the COVID-19 crisis, including "(i) imposter scams; (ii) investment scams; (iii) product scams; (iv) insider trading; and (v) the types of financial crime typologies identified in previous FinCEN guidance on disaster-related fraud, including benefits fraud, charities fraud and cyber-related fraud."
PHISHING ACTIVITY RAMPANT
COVID-19 scams have spiraled in the last month. Many of these schemes involve some variation of phishing—communications that appear to be from legitimate sender but are actually phony messages that induce people to click on links and reveal personal information. These communications are a gold mine for stolen passwords and financial information garnered via email, telephone calls or text. Some of the phishing attempts are very realistic. For an example, see a communication that nearly ensnared a senior online: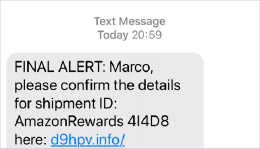 Educate family members about phishing. Scammers are good at what they do, and older adults are often targets.
Grandmother Serves as an Inspiration
IN THE MOST CHALLENGING OF TIMES
Life during a pandemic can feel sad and overwhelming. But heroes and helpers of all ages have stepped up to the occasion. We were inspired by this story about an 89-year-old grandmother, living on her own in Chicago.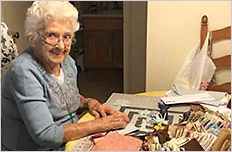 Teresa Provo wasn't sure what to do when the world went on lock-down. Apparently, she wasn't one to sit around feeling sorry for herself. Terry is an avid sewer. Concerned about her family members across the country, she collected as much fabric as she could and proceeded to sew masks for all of her relatives and close friends. Terry personalized each mask, using fabric featuring their favorite sports teams, like the Chicago Cubs or Blackhawks, and included handwritten notes of encouragement with each mask. She then mailed 50 of them—to Chicago, Wisconsin, Florida, Minnesota, and California.
And, according to the piece, Teresa did all this work while listening to The Beatles, her favorite group. When word got out about her accomplishment, she and her friends (a social club of seniors called the Red Hat Club) decided to make additional masks for nursing home residents—over 600 masks, in all.