It's Your Money…
Let's Keep It That Way.
EverSafe® guards against fraud, identity theft, and age-related issues.
A "second set of eyes," we are the first financial wellness tool for seniors and caregivers.
Keep track of your family's finances, credit, bills, and even real estate. We analyze activity across accounts and institutions – because that's how scammers operate.
*** Offered by leading financial institutions nationwide.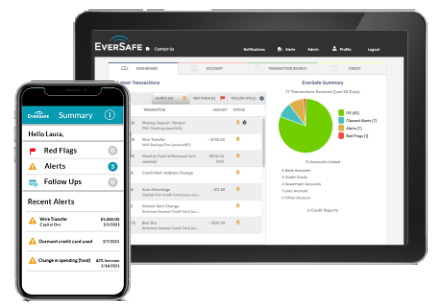 Prepare for the unexpected with 'smart' alerts for you and your team.
Changes in spending and cash usage – across institutions

Use of dormant credit cards

Missing regular deposits

Suspicious vendors

Real Estate title and lien changes
… and more
Keep an eye on your money.
Upcoming/late bills

Account balances – across institutions

Banking, credit card, investment and retirement activity

Credit files – from all 3 bureaus

Increases in regular bills

Home values
…and so much more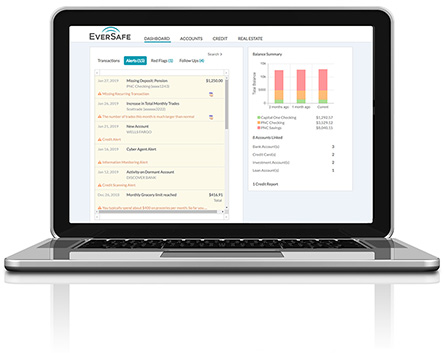 Round-the-clock support
because problems can't always
wait till morning.

We are experts in fraud remediation with
former law enforcement professionals
on call to address issues.
I received alerts on my 85-year-old aunt's checking account. Turned out a new "friend" was forging checks and planning to move her to a nursing home in another state. Thank you, EverSafe!
What We Do
A personal detection and alert system, EverSafe stops exploiters in their tracks before a lifetime of savings is depleted. We're the first step to a good night's sleep.

ANALYZE
We examine your historical financial behavior to establish a personal profile. Then we analyze daily transactions to identify erratic activity.

IDENTIFY
We look for anomalies like unusual withdrawals, missing deposits, irregular investment activity, changes in spending patterns, late bill payments, and more.

  ALERT
Suspicious activity alerts are delivered by email, text, phone or the EverSafe App. And EverSafe's "trusted advocate" feature enables members to designate family, professionals or other trusted individuals to receive alerts and assist in monitoring.

  RESOLVE
EverSafe provides tools to manage the resolution process and helps you create your recovery plan. We're always just a phone call away.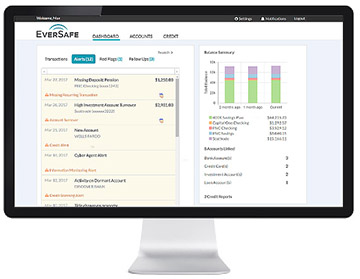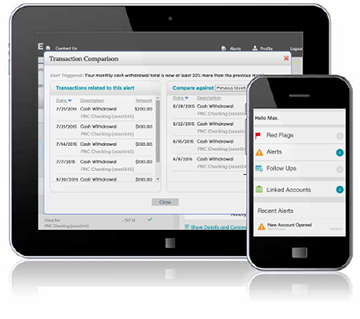 How We Do It
EverSafe is easy to use and delivers unmatched protection for you, your family, and your clients. No other solution safeguards against scams, fraud, and identity theft better than EverSafe.

MONITORING WITH PERSONALIZED ALERTS
Our proprietary technology applies enhanced analytics to build a personal profile based on your financial history. When irregular activity is detected our personalized alerts make a real difference in identifying potential scams, fraud or identity theft.

CONSOLIDATED FAMILY DASHBOARD
EverSafe helps you stay on top of your family finances. All accounts. All institutions. All family members. All in one place. Extra bonus—notices about unpaid bills, changes in interest rates, and more.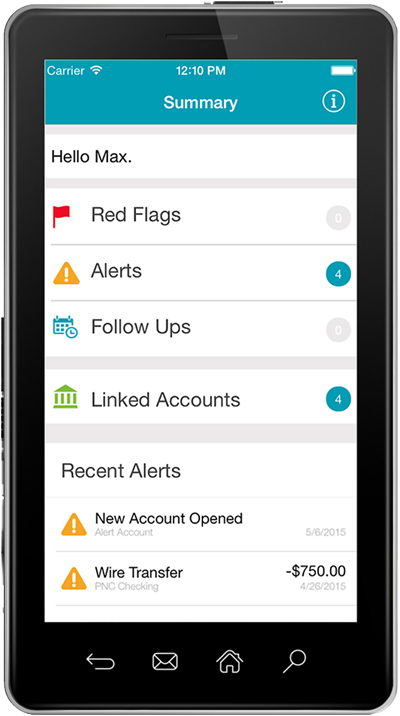 AN "EXTRA SET OF EYES" FEATURE
According to experts, monitoring is the most critical tool for detecting scams, fraud, and identity theft. EverSafe enables you to designate family members, caregivers, or trusted professionals to receive alerts and assist in monitoring.

SPECIALIZED PROTECTION FOR SENIORS
Developed by experts in aging and fraud, EverSafe's enhanced algorithms provide deeper protection for seniors. Our age-friendly software supports powers of attorney, guardians, conservators, and trusts.