EverSafe® makes it easy to keep an eye on your family's finances.
We go beyond identity theft detection to protect you, your parents and your kids.
Identity Theft is Just the Tip of the Iceberg

IDENTITY THEFT AND
FINANCIAL ACCOUNT MONITORING
Comprehensive technology detects and alerts you to suspicious activity.

CONSOLIDATED
FAMILY DASHBOARD
All accounts. All family members. All in one place.

SPECIALIZED PROTECTION
FOR SENIORS
We provide unique protection for older adults, including our exclusive trusted advocate support.

FRAUD RESOLUTION AND
IDENTITY RESTORATION
We've got your back if your identity or finances are compromised.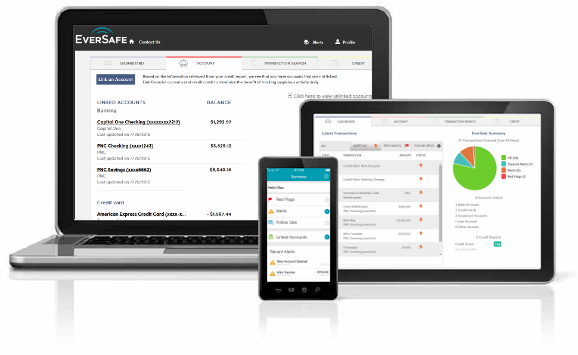 Our proprietary technology uses analytics to build and continuously update a personal profile based on each member's financial history. As a result, we detect activity outside your regular behavior and issue personalized alerts for things like changes in spending, missing deposits, erratic cash usage, irregular investment activity and more.

Technology also can play a role... Families can create their own additional set of eyes, using technology from the likes of EverSafe... that enables trusted family members or friends to have view-only access to financial accounts, or receive alerts to unusual activity without divulging balances.
—Barron's, November 12, 2016


I received alerts on my 85 year old aunt's checking account. Turned out a new "friend" was forging checks and planning to move her to a nursing home in another state. Thank you, EverSafe!
— Tom G.