Protect a Lifetime of Savings
Protect a Lifetime of Savings

Guard Against Fraud, Scams & Financial Exploitation
Specialized Protection for Seniors & Families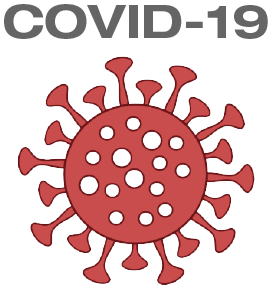 Coronavirus and social distancing create a perfect storm for scammers. Protect yourself and your family during these trying times. Find out how EverSafe and our 24x7 monitoring can safeguard your money.
Who We Serve
EverSafe monitors bank and investment accounts, credit cards, and credit data for you, your family and your clients. Our alerts are designed with seniors in mind.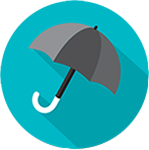 Protect Yourself
Staying on top of your finances is challenging. Our personalized technology alerts you to signs of irregular activity. Our consolidated dashboard simplifies monitoring across accounts and institutions.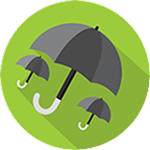 Protect Others
Whether you're an adult child of an aging parent, a caregiver or a professional serving an older client, EverSafe's exclusive "trusted advocate" feature enables you to serve as an 'extra set of eyes' in guarding against fraud, scams, and financial exploitation.
What We Do
A personal detection and alert system, EverSafe stops exploiters in their tracks before a lifetime of savings is depleted. We're the first step to a good night's sleep.

Analyze
We examine your historical financial behavior to establish a personal profile. Then we analyze daily transactions to identify erratic activity.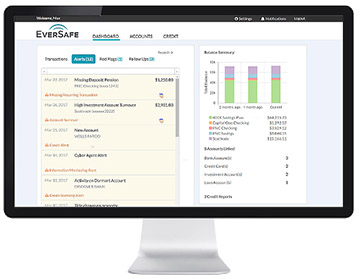 Identify
We look for anomalies like unusual withdrawals, missing deposits, irregular investment activity, changes in spending patterns, late bill payments, and more.

Alert
Suspicious activity alerts are delivered by email, text, phone or the EverSafe App. And EverSafe's "trusted advocate" feature enables members to designate family, professionals or other trusted individuals to receive alerts and assist in monitoring.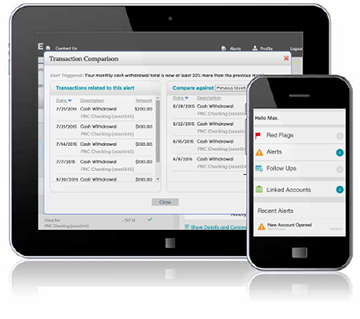 Resolve
EverSafe provides tools to manage the resolution process and helps you create your recovery plan. If your identity has been compromised, we'll assist with identity restoration. We're always just a phone call away.